Main Content
Happy Friday, Deac families! Have a smorgasbord of things to share today: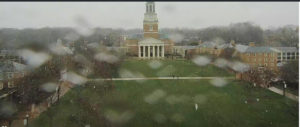 First of all, it SNOWED today. Starting around 1:30, we had big, chunky, wet snow. The ground is not cold enough for it to stick, so it melted pretty much on contact with the ground for the first hour or so. It is not going to stay snowy for long; still, it provided some excitement. Not sure if it will still be snowing when the Daily Deac gets emailed; you can try the Quad Cam. I also did a screen grab (all the blurry parts are snow) of both the early and late-in-the-snow experience.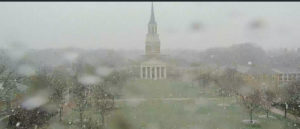 There are a couple of big events taking place this weekend:
aWAKE All Night is an all-night party in the Benson Center, which will be on February 1st from 9 pm to 1 am. It has free food, music, games and more. This has been a favorite event for our campus for some years, and connects students of all years and across a variety of experiences.
The Student Union is sponsoring a Super Bowl watch party from 6:00 pm – 11:00 pm on February 2 in Shorty's in the Benson University Center.  They will be providing free food and playing games throughout the Super Bowl where students can win food dollars.
Tell your Deacs to go to these events – and there are always more options via the Office of Student Engagement and their event/org platform The Link. There are some other University-wide events advertised here.
Today is the last day to sign up for the Sleepin' Deacon challenge, the Office of Wellbeing's initiative to encourage healthy sleep habits. It is a 2-week challenge for students, faculty, and staff to focus on sleep hygiene. Some of the prizes include a weighted blanket, a humidifier, and sugar scrubs. Additionally, everyone who attends an orientation meeting next week will get a free pair of WF pajama pants! Your Deacs can register here.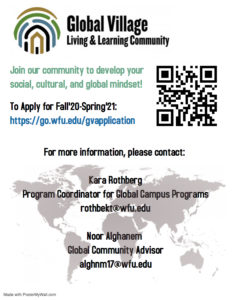 Also found out that applications for the Global Village Living Learning Community are open. Global Village provides housing for students around a common shared interest and fosters community:
The Global Village Living & Learning Community consists of globally-minded students from a broad spectrum of majors who reside together for a full academic year and commit to collaboratively explore a global theme through curricular and co-curricular activities. The Global Village is an intentional community focused on cultivating social, cultural, and intellectual development of participants and is designed to foster engagement with the broader Wake Forest community.
This could be a great option for students who are interested in this and/or looking to find a group or niche on campus. Your students can apply here.
February is Black History Month, and our Intercultural Center has a lot of great events planned:
The theme for Wake Forest's Black History Month 2020 is "Reconstruction: Discovering the Black Voice". The theme emphasizes the continual struggle to have Black voices be respected and heard. The empowerment of the Black voice enhances the ability of Black people to be and to become themselves, not only for their own good but for the enrichment of the lives of all people. This theme reflects on the contributions that Black people make to American society and recognizes the numerous struggles that define the Black experience in America. Additionally, this theme highlights the fight to find and embrace the inner voice that will lead to much-deserved jubilation within Black communities.
There will be a panel discussion tomorrow morning in Brendle Recital Hall honoring the first African-American women to integrate Wake Forest's residence halls in the early 1970s. It promises to be an important session and I hope our early-rising Deacs will go. Learn more.
Wishing you and yours a great weekend! Remember that Friday is a great time to call your Deacs 🙂
— by Betsy Chapman, Ph.D. ('92, MA '94)
Recent Posts
September 25, 2020

September 24, 2020

September 23, 2020