Main Content
For those students who are looking to deepen their engagement outside the classroom, the Spring 2020 Involvement Fair will take place this coming Sunday, January 26th from 1-3 pm in Reynolds Gymnasium. Whether your student is a first-year or a senior, please do encourage them to go and sign up for some clubs and activities. One's sense of belonging on campus has close ties to one's level of campus involvement – so this is a time to dig in and join things. This may be particularly salient for students who were hoping to join a Greek organization but for whatever reason did not).
On that note of joining, I received some great info last week about Delta Xi Phi, WFU's only multicultural sorority. Delta Xi Phi Multicultural Sorority Inc. will begin informal recruitment the first week of February and are looking for women who might be interested. The women of Delta Xi Phi are committed to making their organization a space for women looking to build community across cultural differences. The organization's pillars are: advancement of women through higher education, community service, increasing multicultural awareness, sisterhood, and friendship. These are worthy goals that could attract women of all identities.
The first week of February (flyer attached) is their informal rush, where interested women can get to know the sisters through activities. At the end of the week, women who are interested in becoming members and who align with the goals of the organization will be invited to join, and after a 6 week education period, will be inducted. There is scholarship funding for women that need it. Interested young women can attend the various activities, or contact DXP leadership.
This could be a wonderful way for women who are otherwise unaffiliated to find community in an organization. Encourage your Deacs to learn more.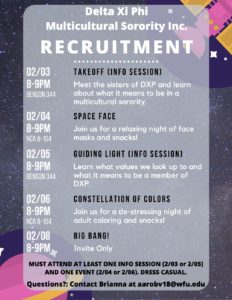 — by Betsy Chapman, Ph.D. ('92, MA '94)
Recent Posts
April 9, 2020

April 8, 2020

April 7, 2020