Main Content
Yesterday afternoon a message went out to campus about entering campus at the gatehouses; read it here. This morning there was a message that went to all students, faculty, and staff to remind them of evacuation procedures in the event of an emergency; read it here. Just for context, the evacuation message was not sent in response to any emergency; it was sent just for awareness and to remind people of good practice.
One last bit of news: Wake Forest will be closed December 23-27 and January 1. As you might imagine, a lot of people will also be taking PTO through New Years (including the Office of Family Engagement). Details here about how to get assistance in the unlikely event you need to reach someone for an urgent reason during this break.
It's that time of year when people are giving and receiving holiday cards and expressing their good wishes to friends, family, and colleagues. While I have had the pleasure of meeting some of you, there are a lot of folks in the Daily Deacdom that I have not been able to meet in person, but I feel a bond of internet friendship with you nonetheless.
Your engagement with Wake Forest via the Daily Deac plays a huge part in making my job feel less like work and more like a labor of love. So thank you for reading this blog and allowing me to bring you a tiny petit four sized bite of Wake each day. If I can connect you – even just a little bit – to your Deac's experience, or help you miss them a little less, or feel a little more comfortable knowing how to take care of X or Y, then I am glad.
I gave up doing personal Christmas cards some years ago (just couldn't keep up with them), but if I did them, I would send all of you one. Imagine that this is the picture I would have chosen (thank you, Ken Bennett!), and imagine that I am down there on the Quad with Mr. Daily Deac and Class of '27, and our two Deac dogs 🙂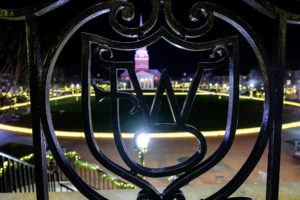 Wishing all of the Daily Deacdom the very best for the holidays!
— by Betsy Chapman, Ph.D. ('92, MA '94)
Recent Posts
March 28, 2020

March 27, 2020

March 26, 2020