Main Content
Luminaries went up yesterday, some 5,000 of them. Check out the Quad Cam after dark and see how beautiful they are. There is a name on every luminary, representing all the Wake Forest alumni and parents/families who has made a gift to the Wake Forest Fund this fiscal year (starting July 1). Before you ask, no, they are not in alpha order. There was a mammoth team trying to get them all laid out, and to have so many people working at once, we had to divide the names at random (or else be on top of each other during placement of the labels on each luminary or physical placement on the ground).
This is the last day of classes – known as LDOC. As the semester draws to a close, you might enjoy this brief look back at Autumn at WFU. And since it is LDOC, your Deacs are most likely starting to feel the burn of impending papers and finals, so I am offering some English major Laughter Is the Best Medicine in advance, plus some advice.
First the advice: my belief (forged over  years of English classes at WFU) is that for every single work of literature ever, you can write a paper on how it exemplifies "Man's inhumanity to man." Not sure how to talk about Moby Dick? It's about man's inhumanity to man. Les Miserables? It's about man's inhumanity to man. The Portrait of an Artist as a Young Man? You guessed it! It's about man's inhumanity to man. You. Are. Welcome.
Also, on Sunday we will find out where our Deacs are going bowling! We know already that our football team is bowl-bound, we just don't know where yet. That should be released around 5-6 pm on Sunday on GoDeacs.com, and after that we will begin communicating with the alumni and parent/family constituency to let you know where we are playing, how to get tickets, what fun events are being planned, etc.
As I get bowl information, I will put it in the Daily Deac. Know that next week there will be a global email to the whole WF family, but also targeted emails from the Wake Forest Communities (regional clubs) who are in the vicinity of our bowl. If the bowl is near your home (or wherever you might be spending the holidays), I encourage you to take the whole family and go. It means a lot to our student-athletes, and there is nothing quite as fun as a large gathering of Wake Foresters.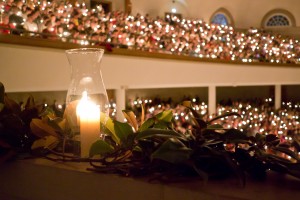 Don't forget about the Lovefeast this Sunday! Your Deacs can/should go, but you can also participate virtually via livestream. It really is one of the most festive traditions we have.
Last but not least, the funnies. This wonderful cartoonist spoofed some of literature's greats into one liners. We'll have more funny finals memes next week, as has become our tradition.
— by Betsy Chapman, Ph.D. ('92, MA '94)
Recent Posts
April 9, 2020

April 8, 2020

April 7, 2020