Main Content
Because I am on the road, I am pre-posting blogs this week. These pictures come from the archives of our master photographer, Ken Bennett, and show the range of some things your students might have experiences recently. Enjoy!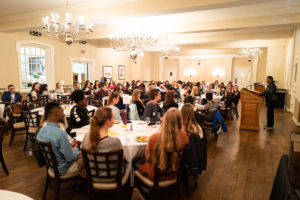 Students discussed racial disparities in medicine during a "Dining Dilemma" event in Reynolda Hall on Wednesday, October 30th, sponsored by philosophy and biology faculty. Dr. Brenda Latham-Sadler, Associate Dean of Student Inclusion and Diversity; Associate Professor of Community Medicine at Wake Forest School of Medicine, shares her personal story and her experiences with racism in medicine.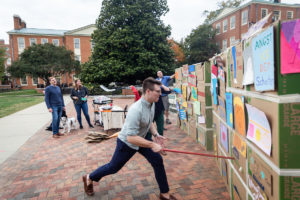 Students and faculty commemorated the 30th anniversary of the falling of the Berlin Wall by hosting a graffiti contest and their own destroying of the wall on Friday, October 25th.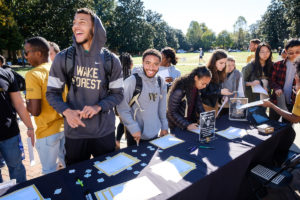 Members of the study body identified what makes them unique, at the Unique Deac event sponsored by Athletics and the Office of Diversity and Inclusion, on Manchester Plaza on Thursday, October 24th.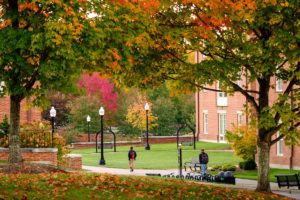 And what about this view?!?! Fall color is starting to show on the Wake Forest campus as students walk between Magnolia and Dogwood Residence halls early on the morning of Monday, October 28th.
Hope you enjoyed these glimpses of campus life!
— by Betsy Chapman, Ph.D. ('92, MA '94)
Recent Posts
August 5, 2020

August 4, 2020

August 3, 2020