Main Content
Happy Wednesday, Deac families! I have been steadily gathering a few more pictures for our Where In the World Are Wake Foresters? series. We'll jump right in.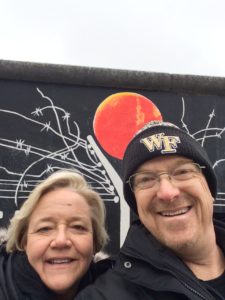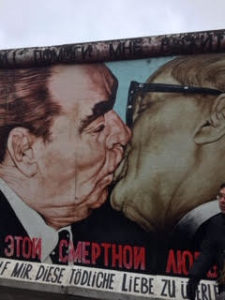 Because we ran an item about the Berlin Wall on Monday, I got some great pictures from Melanie ('84, P'20) and Rick Harkey ('86, P'20) when they were at the Berlin Wall.
The Snows of Kilimanjaro (Hemingway) were experienced first hand by two of our Wake Forest parents this summer. Pete Smith (two '23 daughters) and David Dwyer (two daughters, '20 and '23) climbed Mt Kilimanjaro this past August. The six day excursion traversed 30 miles of highland desert terrain and glaciers with daytime temperatures of 60 degrees Fahrenheit falling to 0 degrees at night. The final 4,000 foot climb from the Barafu base camp to the summit started at 5 am in the morning — planting the Wake Forest Demon Deacon flag on the 19,340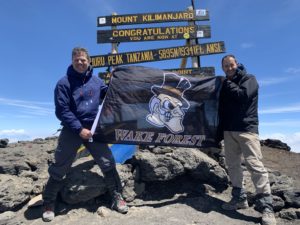 foot peak at 11 am!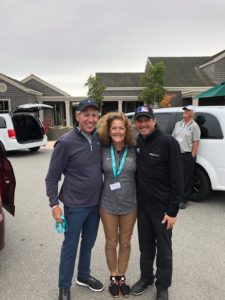 And for the golf loving Deacs among us – and there are many – we have Sue (P'18, '21, '21) and Dave Wahrhaftig (MBA '82, P'18, '21, '21) with Deac legend Billy Andrade ('86) at Pebble Beach.
As always, we welcome you to submit your pics for Where In the World Are Wake Foresters. All you have to do is be wearing Wake attire in some form or fashion and email parents@nullwfu.edu* and let me know how you want to be identified (name and P' year? P' year only?) Pics don't have to come from some fabulous vacation either – they can come from you volunteering, or being at a local landmark in your hometown. And if your Deac is in the picture, please let me know we have their permission to run it.
I had an inquiry from a student group, who wanted to share their best dining advice in advance of Family Weekend:
Spoon University is a nation-wide health and wellness organization made up of chapters from 200+ different college campuses. Each of the chapters publishes content relating to recipes, food trends, or wellness. The WFU chapter of Spoon University is made up of writers, marketers, and photographers who love to share their passion for food and wellness on Wake's campus. They have compiled a guide to Family Weekend restaurants – and I must say, their advice is solid!
* ignore the weird null character that renders in the email version of the Daily Deac, it's just the word parents then @wfu.edu.
— by Betsy Chapman, Ph.D. ('92, MA '94)
Recent Posts
January 21, 2021

January 20, 2021

January 19, 2021