Main Content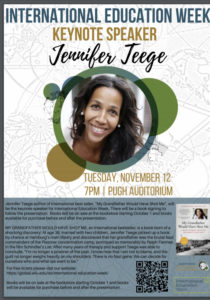 I received an email yesterday about International Education Week, which will be held November 11-16. The keynote speaker that week is Jennifer Teege:
Jennifer Teege, author of international best seller, My Grandfather Would Have Shot Me, will be the keynote speaker for International Education Week on November 12 at 7 pm in Pugh Auditorium. My Grandfather Would Have Shot Me, an international bestseller, is a book born of a shocking discovery: At age 38, married with two children, Jennifer Teege picked up a book by chance at Hamburg's main library and discovered that her grandfather was the brutal Nazi commandant of the Plaszow concentration camp, portrayed so memorably by Ralph Fiennes in the film Schindler's List. Teege's mother was German; her father was Nigerian.
Tickets are free, but your students must reserve them here. Also, there will be a book signing to follow the presentation. Books will be on sale at the book store on October 1 and books available for purchase before and after the presentation.
Campus is getting excited for the productions of From the Ground Up. We got word yesterday that the final performance  (Saturday, October 5th, 7 pm ET) will be broadcast live online at https://go.wfu.edu/golive. Mark your calendars and save that link and join us virtually on Saturday night. I can't wait to see it! As a reminder, here is what From the Ground Up is:
Presented by IPLACe, Forklift Danceworks directs From the Ground Up, a dance featuring the movement and stories of Custodial, Maintenance and Utilities, Landscaping, Construction, and Waste Reduction employees. Through a series of residencies, Forklift artists are partnering with Wake Forest Facilities and Campus Services staff to co-create a large-scale, site-specific performance to take place on Hearn Plaza on October 3rd, 4th, and 5th. 
Hopefully only one more day of this miserable heat and then we'll cool down for good. Fall is overdue.
— by Betsy Chapman '92, MA '94
Recent Posts
August 5, 2020

August 4, 2020

August 3, 2020