Main Content
Today was a big day. Dr. Hatch sent a message to the campus community to announce that we have reached the $1 billion mark in commitments to the Wake Will Lead campaign:
"On this day in 1951, President Harry Truman helped Wake Forest College break ground on a new campus in Winston-Salem. That historic moment, made possible by an act of incredible philanthropic support by the Reynolds family, expanded the horizons for what would become a nationally admired institution of higher education. Today, philanthropic support again gives us the occasion to celebrate a historic milestone in the life of Wake Forest University. I am humbled to announce that the Wake Will Lead campaign has surpassed the $1 billion milestone thanks to the generosity of alumni, parents and friends.
A $1.5 million gift from Arnold Palmer's Trust to endow a professorship in literature pushed the campaign past this noteworthy mark. I am pleased to announce that Dean Franco, who has taught in the Wake Forest English Department since 2001 and currently serves as the Director of the Humanities Institute, will be the first to hold the Winifred W. Palmer Professorship in Literature."
Read his full message here.
When I started at Wake 20 years ago, the idea of a billion dollar campaign seemed as unlikely as the sun rising in the west and setting in the east. Only the Ivies or other giant schools could dream that big. Or so I thought.
And yet, we did it. So much of the credit goes to current and past parents and families, because your generosity has been an overwhelming part of this campaign's success. Thank you!
As momentous an occasion as this is, saying we've raised $1 billion doesn't mean that there is a billion in cash on hand right this moment. Many of the commitments to Wake Will Lead will be paid out over a series of years, through bequests at a much later date, etc. – so we will continue to need your support of the Parents' Campaign of the Wake Forest Fund.
So today I am raising a glass of the finest – in the words of our fight song – to you. Many thanks to every Wake family, past and present, who has supported Mother So Dear in thought, word, and deed. Thank you – and we look forward to all we will continue to accomplish with the support of our amazing parent and family constituency.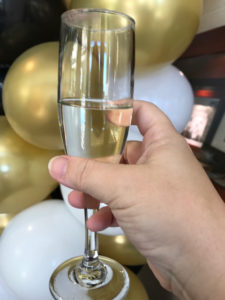 I'm going to be out tomorrow and Thursday (tomorrow is my dissertation defense). Here's a few songs from what I hope will be my after post-defense playlist 🙂
Recent Posts
August 7, 2020

August 6, 2020

August 5, 2020