Main Content
Family Weekend draws near, and I am hoping that all the rain is finished before you all arrive.
Was driving down Reynolda Road on Tuesday and the leaves really are at their most beautiful right now. It is a glorious stretch of road in the fall, so try to make it there at least once during your visit.
Registration begins next week, and one crucial thing students need to do before registration is be certain there are no holds on their record that would prevent them from being able to register.
It is very important for students to check their holds and registration status in WIN well BEFORE their registration day/time. In the event there is a hold, students need some time to take whatever action is needed to clear it. Your Deac does not want to find out 10 minutes before registration that they have a hold and cannot register until 8:30 or 9 the next morning when offices reopen and holds can be cleared (I have seen this happen, and it is misery).
So I always tell my advisees to check those holds now, and then check again a day or so before registration (or the morning of) and take care of anything they need.  The Registrar's website has information:
Holds must be cleared prior to Registration in order to register for classes.  Offices such as Finance & Accounting, ZSR, etc. will NOT be available to remove holds after 4 p.m.  The Office of the University Registrar staff cannot remove a hold placed by another office.
To check Holds:
Login to your WIN account.
Select Virtual Campus.
Select Check Your Holds & Registration Status and view your holds.
There is also a section of the Registrar's website for Registration Errors and FAQ as well as how to get help during the registration process using the G-chat feature. That G-chat is pure gold if you run into an issue during registration.
Finally, in the vein of Stop, Drop, and Roll, a gentle reminder that registration is something students should be doing on their own.
Happy Halloween, Deac families! May the Great Pumpkin bring you only full size Reese's peanut butter cups in your trick-or-treat bag, not black licorice 🙂 [don't be mad at me, licorice lovers, XO]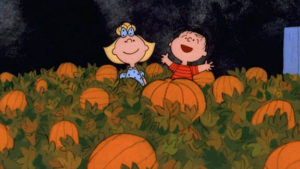 — by Betsy Chapman, Ph.D. ('92, MA '94)
Recent Posts
August 7, 2020

August 6, 2020

August 5, 2020