The Daily Deac is near daily dead – I just did an hour's shift at Hit the Bricks. While my legs (and to a lesser extent, my mind) are mush, I'll throw in a few observations to give you a sense of the day, and then follow up with a lot of pics.
Your kids – they are FAST. Every once and awhile there would be a group of young men who were clearly trying to race each other around the Quad to see who was the fastest. They were just absurdly quick. Like the old Roadrunner cartoon. A total blur. Honestly, I could not move that fast if there was a zombie horde with flame throwers behind me.
This year the setup was a little different (due to the struggling Quad grass, student groups couldn't be all over the grass as in years past, so tents and cheering areas were set up on the brick sidewalks, and it actually worked pretty well.
As in all years, there is a wide variety of ages, ability levels, speeds, and level of competitiveness, etc. And everyone is welcome to participate – which feels good for this chubby old plodder 😉
The music this year was especially good. Bless these students for throwing a bone to the Gen Xers among us and playing David Bowie's Let's Dance, or Wham's Wake Me Up Before You Go Go. One of the funniest things I witnessed was a group of students jogging and clapping as a group while they were playing Earth, Wind, and Fire's September. Nice to see them jamming to a classic.
Not gonna lie, it was beastly hot for HTB. For the first hour, it was sort of overcast and I thought maybe we'd dodge the bullet of low 90s. But right about noon, it got hot, and it stayed hot.
Hot or not, still one of the best days of the year at Wake. So much goodwill and so much fun and so much love, it is palpable. Kudos to the students who planned this extraordinary event and all my colleagues who supported their work – and of course to the runners and walkers!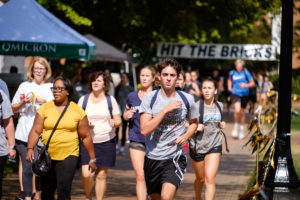 — by Betsy Chapman '92, MA '94