To our Chinese parents and families in the Daily Deacdom celebrating the Mid-Autumn Festival: may this Harvest Moon bring health and happiness. May the yield be overflowing with love and joy and family and friendship. Happy Mid-Autumn Festival!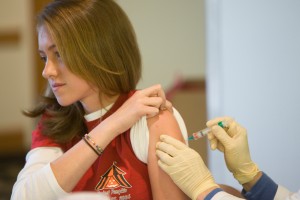 My friends in the Student Health Service sent me information about two opportunities for students to get flu shots on campus:
The Student Health Service is hosting the Maxim Student Flu clinic on Wednesday, October 2 from 12:00 pm until 7:00 pm in the Wellbeing Living Room within the Wellbeing Center/Reynolds Gym. Maxim will file multiple different insurances. Students should bring their insurance cards and student ID's with them to the event that afternoon. For individuals whose insurance is not accepted by Maxim, the cost of the vaccine is $30, which can be paid for by cash, check, credit card or select insurance.
Prior to the Maxim clinic, the Student Health Service will be offering flu vaccines by appointment in the regular SHS clinic beginning Monday, Sept 16th. The cost of the vaccine is $30.00 and will be billed to the student's account. The Student Blue (student insurance) covers  the flu shot in the health service at no cost. A receipt is provided to file for all other insurances. To schedule an appointment, please have your student call 336-758-5218.
Questions regarding the Flu clinics should be directed to Karen Thelen, Assistant Director, Nursing in the Student Health Service.
The flu is no joke, friends, and it can spread fast. Students are living in close quarters, they often are not getting enough sleep, and they may be swapping germs in a variety of ways. Every student has to make the choice that is right for them in regard to the vaccine. I would simply offer a few thoughts:
1) it is very difficult to miss a few days or a week of class because you have the flu. It is easy to get behind in your work, or have it impact your grades, etc.
2) because of the above, the temptation to soldier on and go to class even if you are unwell can be great, which risks spreading it to others
3) no one wants to have the flu when they are away from whoever in their family provides them TLC and chicken soup when they are sick
So please, urge your students to strongly, strongly, strongly consider the flu shot.
Let me also just plant the seed now on one point: when there has been flu on campus in years past, some families of ill students have been upset that their student was not prescribed Tamiflu, thinking that this was not a sign of good care. Our Student Health Service works, as most doctors do, with the recommendations of the CDC, which states on their website "most people who are otherwise healthy and get flu do not need to be treated with antiviral drugs."
On the horizon next week are lots of events in honor of Latinx Heritage Month. Hope your Deacs can make some of these events: Latinx Heritage Month 2019 Calendar.
On that happy note :), hope you make it a great weekend, Deac families. Call your Deacs today and see how their week was, tell them you love them, tell them you are proud of them. Those things are eternal day brighteners.
And beat those Heels tonight! Wear black at the football game, Deac fans!
— by Betsy Chapman '92, MA '94