Main Content
There was a surprised masked visitor on campus – if you can call a raccoon a masked man 🙂 Our very own Ken Bennett, photographer extraordinaire, captured this raccoon near the Byrum Welcome Center a few weeks ago.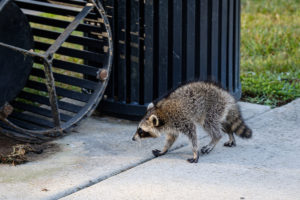 There are some lovely woods around Byrum and the main entrance to campus, and all kinds of animal friends over there. If you are there early in the morning, or maybe at twilight, you might even see deer. A good reminder to our Deacs with cars on campus to be alert and observe the speed limit.
Also, wanted to pass along an invitation to all our Deac families from our Office of Alumni Engagement:
The Office of Alumni Engagement is putting the finishing touches on 28 WAKEWelcome events to build held across the US (and in London).  These gatherings of alumni, parents and families, and friends help 2019 graduates meet Deacons in their new homes.  They are held on or near the first day of class (August 26th) as many of our new grads may be feeling particularly nostalgic.
Wake Forest parents and families are invited to attend to interact with their neighbors who may also be parents and alumni.  It's a great opportunity to hear about the Wake Forest experience (and the Wake Forest parent & family experience) from those who've lived it.  Join us for these celebrations by following the link below and finding your WAKECommunity event!
Parents and families are an important part of our larger Wake Forest family. Come on out to one of these WAKE Welcomes if you can!
— by Betsy Chapman '92, MA '94
Recent Posts
August 5, 2020

August 4, 2020

August 3, 2020