Main Content
UPDATE FOR P'23s: some changes for Orientation locations on 8/22 were announced this afternoon. Details here.
It's Move-In Day today for our '23s, yay! We are so excited to have our new Deacs and their families with us. Because Move-In is such a busy day for our office (I will be in Benson all day staffing our Office of Family Engagement welcome table), this is a prepost.
Today we are bringing you the latest batch of Where In the World Are Wake Foresters? In this edition, we have José Villalba, Vice President for Diversity and Inclusion, Chief Diversity Officer, and Professor of Counseling, and his family and students. José taught CNS 335: Health and Human Services in a Diverse Society, in Barcelona, Spain for Summer Session 2. All class meetings were held at the Wake Barcelona Center (see pictures of the space). In addition to the class, students took part in field experiences to let them see health and human services work in a different environment than what they may be used to.
Next up we have a '23 Deac on top of Mt Bierstadt (elevation 14,ooo+)  in Colorado.
Dean Saridakis ('23) is at an olive farm and oil manufacturing facility on the island of Crete, Greece.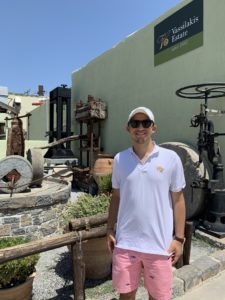 Last but not least, Jordan Diamond ('23) was in South Africa at Kruger National Park about to embark on an evening safari (and enjoying a local popular soft drink).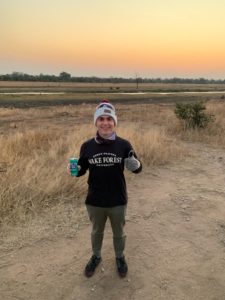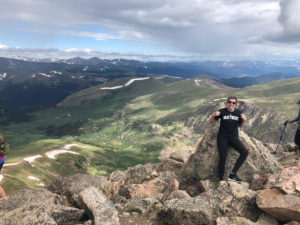 If you have a pic of you/someone in your family in WFU gear in a cool place (whether that is your hometown, volunteering in our Pro Humanitate spirit, on vacation, etc.), you can email it to parents@nullwfu.edu*. Please let me know if you would like your first and/or last name used, or if you want to be anonymous, such as Deac Mom P'22 (for parent of a sophomore), etc. If you send a pic of your Deac and want them to be listed by name, please state that your Deac gave permission for this.
* ignore the weird null character that renders in the email version of the Daily Deac, it's just the word parents then @wfu.edu.
— by Betsy Chapman '92, MA '94
Recent Posts
August 7, 2020

August 6, 2020

August 5, 2020