Main Content
It has been S-T-E-A-M-Y here in the Dash of late. When it has been sunny, the Quad sprinklers have been working overtime to keep the sod watered as it takes root.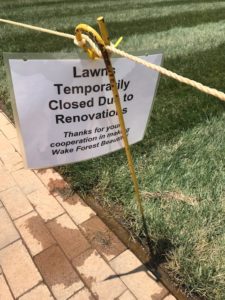 I wish I had gotten a picture of two little kids (probably 3 and 5 years old) who were running in the Quad sprinklers even though the sign said to keep out. They were too cute.
There are ropes up around the grass so people stay off of it, which reminds me of my own Wake days as a student. When I was here, there were chains keeping you off the grass. Dr. Smiley, a much beloved professor, would chide any students who stepped over the ropes by saying The grass cries! Keep off the grass.
The notice below was on the Office of Academic Advising Facebook page last week, so wanted to bring it to our P'23 families' attention:
"ATTN, Wake Forest University Class of 2023! If you will be without internet the entire week of registration (July 15th – July 19th), you need to call the Wake Forest University Office of Academic Advising (336.758.3320) before Friday, July 12th to discuss your options with an Academic Counselor."
In case your '23 Deacs missed it, an email about how to prepare for registration went out on Monday. You can catch it here.
I will be gone most of this week for New Student Receptions, so we will have some pre-posted Daily Deacs. Here are a few pictures I took last week of some spots on campus.
Have a great week, Deac families!
— by Betsy Chapman '92, MA '94
Recent Posts
September 25, 2020

September 24, 2020

September 23, 2020