Today is all about geography. First, a program note: our Alexandria, VA New Student Reception has been canceled, so there is no event on June 27th. New students/families who'd planned to attend Alexandria can attend the DC reception this Thursday or Potomac, MD on August 6. We've also added a couple of new New Student Receptions – Los Angeles and Minnesota – as well as general events in Nantucket and Southampton (at the bottom of the site). Once all details for events are confirmed, you can register online at this website: https://newstudents.wfu.edu/gettingstarted/new-student-receptions/.
For our longtime Daily Deac readers, you will recall we sometimes run a feature called Where in the World Are Wake Foresters?, which are pictures of Deac families in Wake apparel all over the world. We got an entry the other day from current student Brittany Wallace ('21).
She went on the Community-Based Global Learning volunteer trip to Cambodia this summer with the Global Programs and Studies office and brought back this great picture. Brittany tells me that their group was lending a hand making bricks that incorporate plastic bags, a process developed by the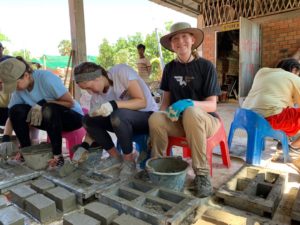 Cambodian couple who run the school they volunteered at in Siem Reap.
Community-Based Global Learning programs are a wonderful option that might appeal to students who want an abroad experience, but need it to be in the summer or don't want to be gone for a full semester, or for students who are passionate about service projects. Encourage your Deacs to check it out.
And if you want to send us your Where in the World Are Wake Foresters? pictures, email them to parents@nullwfu.edu (again, I don't know why the weird 'null' shows up in our email address – but delete that if you are emailing us). Your photos can be of anywhere in the world – your vacation, a landmark in your hometown, you volunteering in the spirit of Pro Humanitate – as long as you are wearing WFU apparel. Please let us know if we can use your name, or if you want to be an anonymous P'20 or P'21, etc., and if including pictures of your Deac, please verify that they have given permission to run their photo.
— by Betsy Chapman '92, MA '94