Yesterday was a great day for new students and their families – four New Student Receptions took place from New York to Florida. Thanks to all our host families and all our guests. Hope you had as much fun as we did! We have a couple more dates just added, so P'23s should check the NSR site for new locations.
One of the questions we occasionally get during the semester is "Are there jobs available on campus that are not for work-study students?" Today I got an email from ARAMARK, our campus dining provider, about opportunities:
Are your students looking for the opportunity to earn spending money during the school year?  If so Deacon Dining is looking for help at ALL of their locations – including Village Juice, Shorty's, Zick's, Starbucks and Catering.  Starting Pay is $13.10 per hour, the hours are flexible and they are able to Dine FREE during their shift.  Interested, go to Aramark.com/careers and keyword search 242433.  Questions – please feel to reach out to day-robin@nullaramark.com or cherry-tamare@nullaramark.com.
We have also had a few questions from P'23 incoming families about upcoming due dates and deadlines, and information about how their students should be choosing their WRI 111 or FYS 100 course. The Parents and Families section of newstudents.wfu.edu has a list of all deadlines (scroll down on the page), and we also include an emails your student has received link, so you can see the info being sent to them.
The mood on campus is hot and steamy. It's in the high 80s/low 90s all week. Still no grass yet on the Quad – I see on the Quad Cam that they have tractors and earth movers out there today. I assume they are grading to help solve some of the drainage issues. Have to admit, it feels really strange not to see the Quad grass.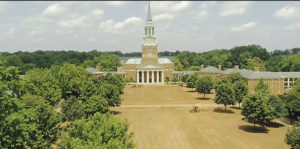 Our alumni might recall the former tragedy of our old trees, which had been so tall and stately, but ultimately dwindled down due to Dutch Elm disease. They were cut down in 1987, I believe, and replaced with ash trees (which also later had problems). The cutting of the Quad trees had been a major blow, an unthinkable change to the Quad. Seeing the dirt instead of Quad grass must give our late 80s alumni some bad flashbacks. Here's a picture of one of our old Howler yearbooks showing the trees in their former glory.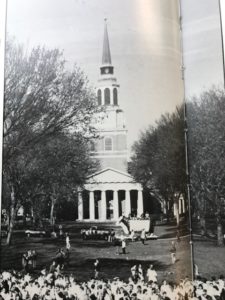 — by Betsy Chapman '92, MA '94