Main Content
We had a celebration in Alumni Hall today, recognizing the great work of our colleagues:
"PRSA, the nation's leading professional organization serving the communications community, presented Wake Forest University with the Silver Anvil Award at a ceremony in New York City on June 6.
Wake Forest won the award in recognition of its Call to Conversation program, which began in 2017 and has become an international movement with one goal: to spark more meaningful conversations."  Read the full story here.
This award is a big deal – it was described to me as being like winning the Oscars of communications.
For those who are not familiar with the Call to Conversation program, it really is an amazing thing. You sit down for a meal and a conversation around a single topic. In every one I have attended, participants say they did not realize how much they needed the feeling of connecting to others, of listening and being understood. If you want to learn more, see our C2C website.
There was another sort of celebration on campus. An eagle-eyed Deac parent noticed a lot of activity on the Quad Cam this morning and asked what was happening. The lines of people you see going into Wait Chapel in the photo below are local 8th graders (including my very own Class of '27 Deac!!!) who were practicing for their graduation ceremony, which takes place tonight. Fingers crossed that I get to do the real graduation on the Quad with '27 Deac in 8 years 🙂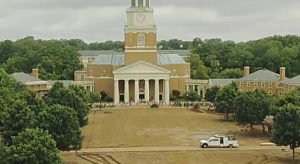 — by Betsy Chapman '92, MA '94
Recent Posts
April 9, 2020

April 8, 2020

April 7, 2020