Main Content
For those of you who like to watch construction or landscaping projects in process, I hope you have been tuned in to the Quad Cam. Because the tent and stage were constructed (yesterday I think), and today we are coming to The Placing of the Chairs. I don't expect they will get all the chairs out today, so you can probably tune in tomorrow to watch the scene unfurl.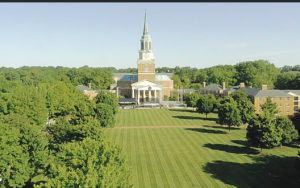 Happily, I got a screen cap of the Quad before The Placing of the Chairs. Behold, the gorgeous symmetry of the way the grass was mowed. Perfect, beautiful, orderly stripes. And I wish you could feel how lush and soft Commencement Quad grass is. It is so thick, like a carpet.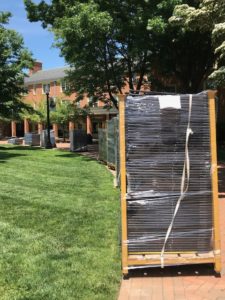 I was up on the Quad today and saw the rows and rows of stacked chairs up close. I am 5′ 4″, and these stacks were easily over my head. There was a sign on one stack (which just looks like a piece of paper in this picture because the sun hit the paper as I took the photo) which said 180, so I am taking it to mean there were 180 chairs in that bundle.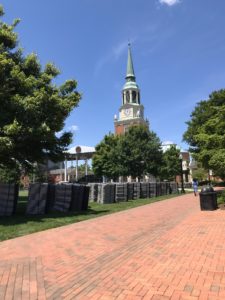 Today would be the IDEAL weather for Commencement. It's about 67 and sunny with a light breeze. Perfect. For all our P'19s, keep an eye on the weather forecast for the weekend and pack accordingly. Speaking of the weather, I have a wonderful colleague who has an uncanny talent for digging up fun facts. He did the following Commencement Weather Q&A and sent it to me. Enjoy.
Q: Historically, what are the odds that Commencement will be forced indoors?
A: This has happened only four times in the 53 years of scheduled outdoor Commencement: 1973, 1983, 1991, and 2010.
Q: What are the odds that it will rain during the ceremony?
A: About one in three. Rain – mainly drizzle – has been observed during the time of the ceremony in 15 of the 46 Commencement years for which we have data.
Q: Will the ground be soggy regardless of whether rain falls that day?
A: Be prepared for that possibility. On the day before Commencement, there has been measurable rainfall in Winston-Salem in 10 of the past 18 years. [FROM BETSY: whether it has rained or not, the grass will be wet with dew, so don't wear your fanciest shoes!]
Q: What about temperature?
A: Bring a light jacket and be prepared to shed it. The temperature during Commencement has ranged from 51 degrees to 88. On average, however, it's 64 degrees at the start and 72 at the end.
One final FYI. An email went out to the campus community today with a reminder that there will be testing of the indoor/outdoor alarm system. Read it here.
— by Betsy Chapman '92, MA '94
Recent Posts
August 5, 2020

August 4, 2020

August 3, 2020