Main Content
You can always tell when it is finals on campus. Beyond the normal visuals of student dress (yoga pants/ponytails/minimal makeup for ladies, hats and stubble for men), you start to see the parking lots begin to empty of the cars. The great dwindling has started.
For those with seniors who might not have their plans set in stone, there is an update from the School of Business: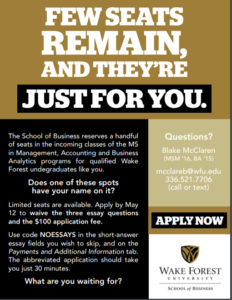 "Now through May 12th, the School of Business is offering Wake Forest students application fee and essay waivers for our Masters programs in Management, Business Analytics, and Accounting.
As you may know, we hold onto a limited number of seats each spring just for qualified Wake Forest students who find themselves unsure of their plans after graduation. We welcome all majors to our programs, too. You don't have to be a business major to apply."
Last, but certainly not least, I want to share some pertinent information about – wait for it – toilets. For those P'19s in the crowd with graduating seniors, I need your help understanding the best bathroom options during Commencement. Know upfront that
1) there will be lines for restrooms
2) if you want to avoid lines, use the fancy potties.
And by fancy potties, I mean the executive port-o-johns. These are trailers with a real and proper flush toilet, air conditioning, running water sinks and all. Vastly preferable to some of our own bathrooms on campus, in fact. But parents and families tend to want to wait in line in Reynolda or another building for fear these port-o-johns will be nasty, when they could move quickly back to their seats by using the executive port-o-johns.
As one of my colleagues put it to me today, "they are a very civilized experience." If you don't believe me, here are some pics. They will be located in parking lots A & P on either side of Wait Chapel.
— by Betsy Chapman '92, MA '94
Recent Posts
August 7, 2020

August 6, 2020

August 5, 2020