Main Content
Just a few days now until Commencement, which is very exciting. It's also an incredibly busy time for us, so this will be a brief Daily Deac – and largely focused on our P'19s.
Students will pick up their Commencement tickets tomorrow or Friday between 9 am-4 pm in Reynolds Gym. Make sure your Deac gets them. Once you have your tickets, hold on to them and be sure to bring them to campus for Baccalaureate or Commencement. You must have a ticket to access the events.

Reminder to keep an eye on the weather. Here's what the forecast is showing us for the weekend outlook (click to enlarge). Of course this can change, so it might look different tomorrow or Saturday.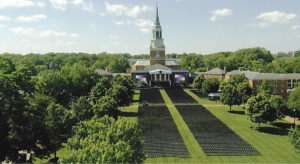 Here is the view of the Quad as of this afternoon. Look at all those beautifully straight rows of chairs!
Pro tip: if you have not thoroughly read through the Commencement website, please do so before you arrive. You need to know about bag checks, and parking, and you may have questions about other things – there are lots of FAQs and things to help.
Finally, this is always a key question we get on Commencement morning: where can I buy food or drink? There are going to be some places on the Quad and I am told they will only take cash, not plastic. So plan to have cash on hand if you think you want to buy coffee or bottled water, etc.
— by Betsy Chapman '92, MA '94
Recent Posts
January 21, 2021

January 20, 2021

January 19, 2021