Commencement is arguably the best day of the year (possible runner up is Move-in Day for new students). And today was a picture perfect – if hot – day. The morning started out really overcast, which was a blessing, because it kept us a little cool in the hours before the ceremony started. That feeling of cool went away once the sun came out in force, but it was nice while it lasted. Here is the only picture I took in the early morning hours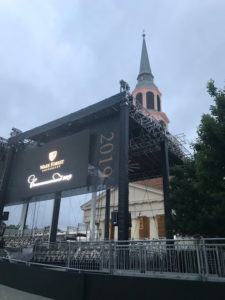 . I posted a few more on the WFU Parents and Families Facebook page after the ceremony.
There will be a lot of post-Commencement coverage on the main WFU web site in the next day or two, so tune in there for more. It will take some time to edit all the pictures and get the speeches online, but they will be there eventually.
As any longtime Daily Deacers know, I am a really sentimental person. I oversaw a lot of proud parent smiles, and hugs, and moments with friends. If my eyes looked a bit red, it was because of the pollen. Really 😉
We proudly send our Class of 2019 off into the world. Do well and do good, my Deacs. Live lives of meaning and purpose. And come back and see us at Homecoming (and any other times you like). And to all our P'19 parents and families, you will always be welcome too!
GO DEACS!
— by Betsy Chapman '92, MA '94