Main Content
Today's end-of-semester bucket list might be more of a challenge – because it involves getting up early, which is generally not our Deacs' forte. It is about seeing one good sunrise, and one good sunset.
The sunset part is easy. Park yourself out in a nice spot – could be the steps of Wait Chapel, or the fire pit of Farrell, or on Davis Field – and watch the sun go down on a clear, pretty day.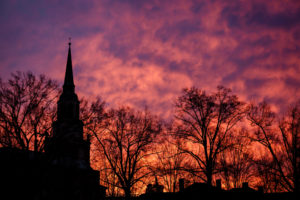 We also have some amazingly beautiful sunrises too, for those who are willing to get up early to see them. The sun rises on the Poteat Field side of campus, so that is a good place to be.
There is something really peaceful about being up early, before the world is awake, and watching the sun rise.
And one logistic item for today: the Student Health Service will be closed starting Thursday, April 18th at 5 pm thru Monday, April 22nd at 8:15 am. There will be a nurse on call for telephone consultations for urgent medical concerns. Students can call campus dispatch at 336-758-5591 for assistance in reaching a nurse. If your student has a heath concern during the closure, please refer to this website for assistance.
— by Betsy Chapman '92, MA '94
Recent Posts
September 25, 2020

September 24, 2020

September 23, 2020