Main Content
Today the campus community received a message announcing the new Dean of the School of Law. It reads, in part:
It is my pleasure to inform you that Wake Forest University has chosen Jane Aiken to become the next Dean of the School of Law, effective July 1.
Dean Aiken comes to Wake Forest from Georgetown Law, where she has been a professor and administrator since 2007 and currently serves as the Blume Professor of Law.
Her distinguished career as an attorney, an advocate and a teacher-scholar – particularly in the areas of legal education, women's rights and evidence – makes her exceptionally well qualified to lead our School of Law. Her leadership, vision and energy are exactly what we need to develop the brightest legal minds in the tireless pursuit of justice.
You can read the full message here. Very exciting times. We look forward to welcoming Dean Aiken, and we also celebrate the extraordinary leadership of Dean Suzanne Reynolds, who will be returning to the law school faculty following five years of service as dean.
There's one week of classes left – so it is about time for me to start my Laughter Is the Best Medicine jokes about the end of the semester and finals. Today I bring you: procrastination 🙂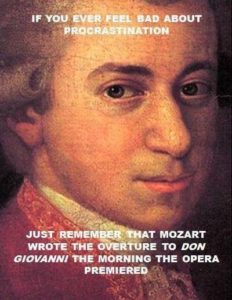 — by Betsy Chapman '92, MA '94
Recent Posts
September 25, 2020

September 24, 2020

September 23, 2020