Main Content
We are happy to have all our students back on campus following Spring Break. It is definitely much quieter here without them.
Dr. Hatch sent a message to the campus community yesterday in regard to the Christchurch, NZ shooting; read it here. Today, he sent the campus an update on the messages he'd sent over Spring Break; read it here. [As a reminder, we post all news sent to students, faculty, and staff to our Family News page, though not all of those get pushed to parents/families, per our communication guidelines).
Important mention for all current families: an email was sent to students and authorized payers on March 1st reminding them of the $500 non-refundable tuition deposit that is required for all returning undergraduate students (this does not apply to incoming freshmen families). The deposit can be paid on DEAC using the "WFU Tuition Deposit Only" option.  The deposit is due by March 31.
There is a terrific set of events this week called SOS (Signs of Stress) – they are offering fun things (like DOGS!) as well as some mental health screening and educational opportunities. Your Deacs should check it out – click on the picture to enlarge. March is also Women's History Month, with lots of activities from our Women's Center (see pic).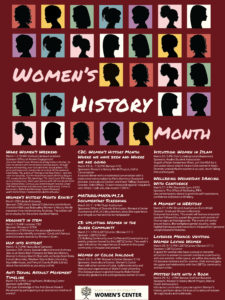 And we have a new Letters So Dear – our advice for first-year students from the been there, done that upperclassmen/women.
Also, I am passing along an invitation from the Center for Entrepreneurship. This is for parents and families as well as students:
"The faculty and staff of the Wake Forest University Center for Entrepreneurship invite you to our two-day annual event, "Entrepalooza: A Celebration of Entrepreneurship" on Thursday, April 4 and Friday, April 5, 2019. Entrepalooza is the marquee event of the year for the Center for Entrepreneurship and we welcome the opportunity to have you join us.
The event kicks off on Thursday, April 4 at 4:30 pm with Startup Lab Demo Day and a keynote address by New York Times best-selling author, Diana Kander. Following Demo Day, join us for light refreshments, appetizers, and our startup exhibition.
Friday, April 5 begins at 8:45 am with Deac Tank, where students will pitch their ideas live in front of judges in hopes of gaining valuable feedback and monetary prizes. We will then conclude the day with a panel discussion on "Ethics and Character in Entrepreneurship."
To RSVP to attend any of the Entrepalooza events (Demo Day, Deac Tank, Panel Discussion), please use the corresponding link below. If you have any questions, feel free to reach out to Jennifer Bennett, Communication and Program Director for the Center for Entrepreneurship at bennetjm@nullwfu.edu. We look forward to having you join us!
Register to attend by clicking here: www.WakeStartup.com
Entrepalooza schedule can be found here: http://bit.ly/EntrepaloozaSchedule"
As always, the great Wake smorgasbord has so many things to offer, and I encourage your Deacs to take as many tastes as they can.
— by Betsy Chapman '92, MA '94
Recent Posts
January 21, 2021

January 20, 2021

January 19, 2021