Still trying to catch up on all that I had been missing because of the flu.
Valentine's Day is tomorrow. If you haven't had the chance to send your Deac a card, we have you covered. Use our Deacon Greetings. They are electronic cards – quick and easy to fill out, and they go straight to your Deac's email. Show some love and send them an e-card 🙂
I thought/hoped I had made mention of all of the Black History Month programming that is available, but wanted to run a link to it again just in case. There are wonderful opportunities all month for meaningful engagement.
Also got word of an event coming up on February 18th: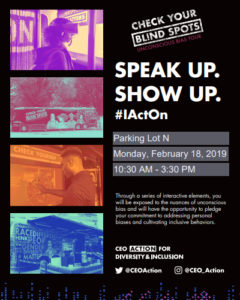 On Monday, February 18th, the Check Your Blind Spots tour will be making a stop at Parking Lot N (the visitor lot between Poteat and Kitchin). The tour is connected to the CEO Action Initiative. Wake Forest, along with 60 other universities and colleges, is a part of the initiative. 
The Check Your Blind Spots tour is designed to give people the opportunity to learn about and explore ways to mitigate unconscious bias in their everyday lives. Through a series of immersive and interactive elements, participants are exposed to the nuances of unconscious bias, and also have the chance to sign the I Act On pledge to address personal biases and drive inclusive behaviors.
Some of the most meaningful stuff I have learned in my grad program has been about people whose experiences and perspectives are different from mine. Though those spaces can sometimes be uncomfortable, education is about pushing our boundaries and challenging ourselves, so I hope interested students will check this out. In addition to learning, another potential plus of checking out this event is that sometimes these kinds of programs have fun giveaways and tchotchkes (sp) etc. There was a bus tour a few years ago about hunger that had some cool swag and a lot of students were checking it out. I learned a lot that day too.
Finally, Mother So Dear is about to turn 185! The grande dame looks pretty good for such an advanced age, non? There will be music, food, and fun on 2/5 in Benson to celebrate her 185th Birthday Bash.
— by Betsy Chapman '92, MA '94