We have great news from our new and dynamic department of Engineering. 43 students have declared a major in Engineering. What is more impressive is that, according to department chair Olga Pierrakos, the national averages show that engineering programs lose about 40-60% of their students within the first two years.  Wake, on the other hand, has 80% retention from first-year to sophomore major declaration. In addition, this engineering program far surpasses the national average for the number of women and students of color in the program.
Another issue of Letters So Dear – advice from upperclass students and young alumni for first-year students – went out yesterday. This letter stressed the importance of all the things that students can learn and grow from outside of the classroom:
"I encourage you to not let grades and studying take up all of your college journey. What do you enjoy doing outside of the classroom? What do you enjoy doing no matter how much work you have left to do? I found that the relationships I built, the people I met, and the non-academic activities I was involved in helped shape who I am today just as much as the classroom experiences did. My advice would be to take advantage of all the resources that are available, inside and outside the classroom, to make your Wake Forest experience exactly what you want it to be."
You can read the full letter via the Letters So Dear archives page.
I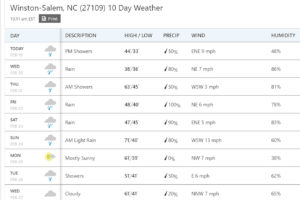 n less great news, it looks like the forecast for the foreseeable future calls for a good chance of rain (click on the pic to enlarge). There is even a chance of freezing rain tonight. Even if the longterm forecast is bad, there are still opportunities for great entertainment on campus by way of Tartuffe, which is running this weekend. I did not have the chance to see it last weekend, but some of my friends went and I know they enjoyed it. And if Moliere is not your Deacs' jam, our Student Union Film Series is bringing A Star is Born to campus – right in time for the Academy Awards!
Finally, I like to share articles on parenting when I see them. This blew up my Facebook yesterday, so I am offering this interesting – and some may say controversial – read from The Atlantic, about a parent worrying the college admissions process is rigged against her son. This feels especially salient because in just a few weeks, high schoolers everywhere will be hearing back from the colleges they applied to. Some are going to get their first choice, others not – and typically you never hear why. And how parents and families help frame disappointment could be an important part of how students react. Reasonable people can agree or disagree about this article, but it did get a lot of social media conversations started yesterday, so I am sharing it.
Sometimes when I meet prospective students, I mention the fact that Wake was actually my second choice school, strictly based on geography (my P'92 mom was putting the full court press on for William and Mary because it was several hours closer to home). I got wait listed at W&M, but accepted to Wake. And it obviously was the beginning of a beautiful friendship, in Casablanca-speak. Not everyone subscribes to the notion that somehow we end up in the place we are meant to be, but I do. And my hope for all those high schoolers awaiting admissions decisions is that if you can't get your first choice, your #2 works out the way mine did 🙂
— by Betsy Chapman '92, MA '94