Main Content
I don't know if many of you have reason to go to the main wfu.edu page, but I was out there today and the story on the main page caught my eye. The main page photo is of the green, lush Amazonian forest, which is really striking. Then when I opened the link to read the story about hiking the Peruvian jungle, I saw this picture of Wake students standing – quite literally – on the top of the world: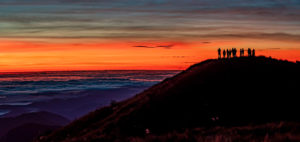 WOW. WOW. WOW. Click on the pic to enlarge it.
It is an extraordinary picture, to be sure, but an even more extraordinary story of the partnership between faculty members Miles Silman of biology and Justin Catanoso of journalism. They taught a course in the jungle for students, with a dual emphasis on the environment and conservation issues, plus reporting on same. It looks fascinating. You can read the whole story here.
Even better, they are offering the class again this summer. So if you have an adventurous Deac, this may be of interest to them. [By the way, faculty friends, if you need a blogger for an exotic trip, I know a really good one…just sayin' 🙂].
There is a second – and very compelling – story about deforestation and mining and its impacts. I commend that to you as well; read it here.
To round out the week: some of our students are returning to campus today to get ahead of the potential for winter weather, and others will arrive over the weekend. We urge everyone to be safe and make good choices based on the forecast.
I'll leave you with this satirical gem that was floating around on social media lastnight. Winter in NC can be a bit of a guessing game. Sometimes we are predicted to get a lot of snow (then don't) and vice versa. So the witty people of the internet responded with the "snow alert" below 🙂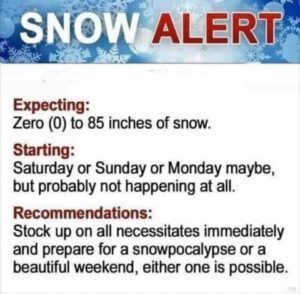 Make it a great weekend, Deac families!
— by Betsy Chapman '92, MA '94
Recent Posts
August 5, 2020

August 4, 2020

August 3, 2020