Main Content
We started this morning with the threat of ice, but we seem to have skirted that danger. It's drizzly and cold, but at least it isn't icy.
One of the great traditions of January is that our Provost, Rogan Kersh ('86), releases his "Best Of" list with his picks for the best books, articles, movies, music, and restaurants from the previous year. Many of our parents and families have enjoyed seeing Rogan's Best of list in the Daily Deac, and I am happy to be bringing it to you today: List-2018.Rogan_1
If your New Year's resolution included reading more, or trying new and different restaurants, etc., you are going to love it. Enjoy!
Finally, a note that there appears to be a couple of bugs going around Winston-Salem. I was at the doctor earlier and while they said they have not seen a lot of influenza at their office, there is a nasty [and lengthy!] respiratory virus going around. I also have some administrator friends whose houses have been hit, either with this respiratory crud or with a stomach bug. I hope all our Deacs are practicing good hygiene and washing their hands frequently. Saw the meme below yesterday and thought I would share 🙂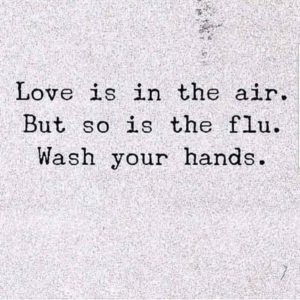 — by Betsy Chapman '92, MA '94
Recent Posts
August 5, 2020

August 4, 2020

August 3, 2020