For those in the Daily Deacdom with students returning from abroad, your Deac might be experiencing the post-abroad culture shock. They are no doubt happy to be home, but may be missing some of their favorite places/sights/foods from the country they just left. Or just missing the access to museums or historical sights or the ease of going from country to country quickly (at least for those in Europe).
Our returning-from-abroad Deacs will have a second round of culture shock when they get back to campus. It was my experience – and it seems to hold true for all the students I have known – that going abroad widens your worldview, and you often come back from that experience feeling changed. Suddenly some of the things that might have been important to you as a first year student or sophomore feel not as important now. And there can be a little cognitive dissonance about how do you fit back in to your old world with a new perspective? Don't be surprised if there is a little of that struggle going on, either now or once the semester begins.
It is quiet here without your students. This time on campus is usually pretty quiet for our staff. It's a time to wrap things up before we leave for the winter break. As a reminder, offices on campus will be closed for the holidays from December 24 through January 1 – with the exception of University Police, who operates 24/7/365. In the unlikely event that you have an urgent situation about a student that must be addressed immediately (issues of health or safety), please contact University Police at 336-758-5591 (non-emergencies) or 336-758-5911 (emergencies). However, if your situation does not require immediate assistance, know that you can contact admistrative offices when the University reopens on January 2nd.
Finally, here are a couple of shots of last week's snow. There are only a couple of places on campus where you can still see the remnants of piles of plowed snow, but in Winst0n-Salem you still can still see the greying snow piles on the side of the road, or big mounds that were plowed in large parking lots. As for me, I like the clean, pretty snow so much better.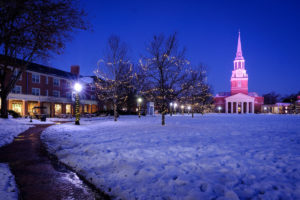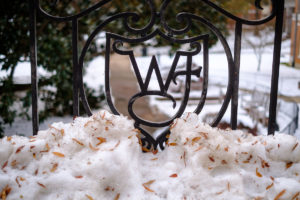 — by Betsy Chapman '92, MA '94
Recent Posts
June 14, 2021

June 11, 2021

June 10, 2021