Today's Daily Deac is a guest post from Rebecca Alexander, Professor of Chemistry and Director of Academic Programming for Wake Downtown, and Clay Hamilton ('18), Fellow for Wake Downtown
As we approach the end of 2018, Wake Downtown is growing and thriving in unprecedented ways, fully realizing the vision of a piece of Wake Forest embedded in the heart of Winston-Salem.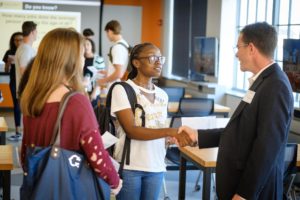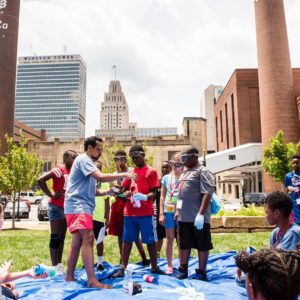 With the completed renovation of Salem Hall in August, the Chemistry department has returned home to the Reynolda Campus after their one-year residency at Wake Downtown. Though we miss seeing our chemist friends regularly, there's still plenty of chemistry (literally and figuratively) happening throughout the building thanks to our programs in Biochemistry and Molecular Biology (BMB) and Medicinal Chemistry. Students and faculty in these disciplines continue to utilize Wake Downtown's next-generation facilities in pursuit of innovative classroom instruction and groundbreaking research, and are increasingly finding new ways to collaborate with our neighbors at the Wake Forest School of Medicine and throughout the Innovation Quarter.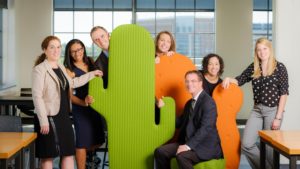 Our chemists and biologists aren't the only ones with big news. Wake Forest's Department of Engineering has entered its second year of operation, enrolling 80 first-year students in EGR 111 and offering new courses and research opportunities for the 50 sophomores in the inaugural class of Wake Forest engineers. To accommodate this growing student interest, the University has hired three new faculty members and renovated a 3600-sq ft space on the 4th floor of Wake Downtown, transforming it into our new Engineering Teaching Studio. This large, flexible space, used for classroom instruction and student collaboration, provides a backdrop for Wake Forest's project-based curriculum emphasizing group work, design thinking, and interdisciplinary understanding, training liberal arts engineers to positively impact a changing world. Already, organizations across the country are taking notice: this fall, WFU received a prestigious invitation to join the Kern Entrepreneurial Engineering Network (KEEN) and was featured in a 6-minute exposé by the American Society for Engineering Education at its annual conference.
Outside of the classroom, Wake Downtown students and faculty are enjoying the thriving downtown Winston-Salem community, with ongoing renovations at Bailey Power Plant and the Link Apartments bringing new dining and retail options to Innovation Quarter. Additionally, we hosted over 200 K-12 students in our space throughout the summer months, working with STEM community outreach organizations such as SciTech, St. Paul's Episcopal Summer Enrichment, and WFU Summer Immersion.
Finally, Wake Downtown is taking steps to prepare for the closure of Business Interstate 40 on November 17. This 17-month project will drastically improve transportation safety and efficiency for the Innovation Quarter but may also impact travel times between downtown Winston-Salem and the Reynolda Campus. WFU Transportation and Parking Services is working closely with city officials and the NCDOT to ensure normal operation of our shuttle system. We ask for patience from students and faculty over the next few weeks as we navigate this transition and respond accordingly, and we enthusiastically recommend downloading the TransLoc Rider app (available on the App Store and Google Play) to monitor shuttle locations and anticipated arrival.