Happy Friday to the Daily Deacdom! Hope you have a smooth end to your week and a wonderful weekend ahead of you.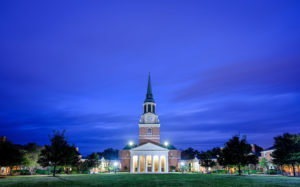 Seems like with the cooler weather, we have had some spectacular sunrises and sunsets this week. While it is probably highly unlikely that most of your Deacs want to get up for the sunrise, they might have better luck seeing the sunsets. Here is a pic that our master photographer, Ken Bennett, took this week. If you are a fan of Instagram, you can follow wfuniversity, as they regram a lot of the wonderful pics that other Wake Foresters post.
We're getting to the point this fall that it is chilly enough to need long sleeves or a light jacket in the morning, then by midday when the sun is out you may or may not need it. Just looked and saw that Sunday's high temperature is projected to be a brisk 57 degrees, so your Deacs will definitely need to break out the jackets then.
Don't forget that Friday afternoon is a great time to call your Deacs 🙂  Wishing you all a great weekend!
— by Betsy Chapman '92, MA '94