Around midday today, I saw a male student sitting on the brick wall outside his residence hall entrance…in what looked like a tiger suit…?
It took me a minute to register that today is Project Pumpkin, one of the happiest days of the year, and I bet his costume was Tigger from Winnie the Pooh. During Project Pumpkin, students dress up in costumes and take groups of local kids to trick-or-treat around the Quad, and to various carnival-type game stations that students run for the kids. The Quad will be decorated and in all its spooky glory.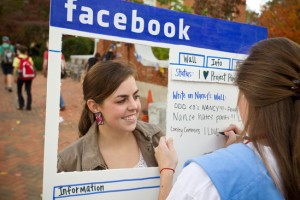 I am not sure how much of Project Pumpkin you might be able to see via the Quad Cam, but between 3-6 pm you should check it out.
It is a perfect day for Project Pumpkin, too – sunny and cool, but not cold. It's always such fun to see the creative costumes that our students come up with for Project Pumpkin. This one is probably my all time favorite. It was when Facebook first came out, and this was such a witty and timely costume. As you can see, she actually allowed people to write on her Facebook wall, literally. Well played, young Deac.
— by Betsy Chapman '92, MA '94