Hit the Bricks is today, and I would urge you to see if you can catch any of the action on the Quad Cam. the trees are big enough that it obscures a lot, but you might catch the runners as they pass across the front of Wait Chapel. This is a wonderful, wonderful, high spirited and meaningful day for our campus.
Several years ago, I started a semi-regular feature called "Meet A Deac," where I'd interview an administrator or faculty member that you may (or may not) already know, but who makes an impact on our students in many different ways. Today I am featuring Allison McWilliams ('95)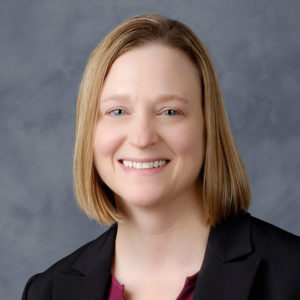 of the Mentoring Resource Center.
[Full disclosure to the Daily Deacdom: Allison is my neighbor. But I would have featured her anyway because I love her work.]
Allison, thanks for doing this. First, the formalities: what is your title and in which office do you work?
I am the Assistant Vice President for Mentoring and Alumni Personal & Career Development. It's a mouthful, I know! But it DOES actually fit on a business card. And I work in the OPCD (Office of Personal and Career Development).
How long have you worked at Wake Forest?
Eight years as of June 1.
In laypersons' terms, what do you do at Wake Forest? What are your main roles?
I oversee two exciting initiatives at Wake Forest, which are unlike any other school in the country! I manage the Mentoring Resource Center, which is charged with elevating our culture of mentoring on campus. In that work, I spend a lot of time helping our students, faculty, and staff develop their mentoring skills and think about how they are building great interpersonal relationships. Unlike other schools, we don't run any formal mentoring programs out of our office, nor do we "match" people. We are much more focused on skill development for life.
I also run the Alumni Personal & Career Development Center, which officially launched in March 2017 and exists to help our alumni navigate their lives and careers post-college. We have a specific emphasis on our youngest alumni, those in their first five years out of college, and provide knowledge, tools, resources, and opportunities for connection as they work, build their lives, and make decisions about what comes next.
Tell me about your educational background.
I have BA in English and Spanish from Wake Forest ('95), an MA in Journalism, and a PhD in Higher Education Administration from the University of Georgia.
Ugh. I am working on my comp exams for my PhD this week and next. I salute you for having climbed that mountain!
As an alumna, what are some of your special memories of your student days?
Too many to count! Working in the theatre all four years. The countless hours I spent in Tribble learning from amazing faculty. Going to see shows at (the original) Ziggy's. Studying at ZSR and in Scales. Winter break theatre trip to London. So many more!
How would you characterize the students of today? What are some common attributes they share?
Wake Forest students are driven, focused, high-achieving, competitive, and, from my experience, just decent human beings.
What do you like best about working at Wake Forest?
I spent a number of years away from Wake Forest when I paid very little attention to the school or what was happening here. It has been such a gift to be back here and to get reconnected with all of the things that make this place so special. Yes, much has changed. But at its core this place is still the same: built on individual, interpersonal relationships and a culture of care.
What advice do you have for students?
Get outside of your comfort zone as often and as soon as you can. Don't surround yourself with the same safe people who think and talk and look like you. Find people and experiences that challenge your worldview and your perspective, and that make you have to honestly defend those things that you hold dear. This, after all, is the whole point of college. Don't miss it.
What advice do you have for parents and families?
The night before I left for Wake Forest, my father sat me down and told me, "You're going to drop a letter grade. And it's ok." It's some of the best advice I've ever gotten. These students are under so much pressure – self-imposed, parent-imposed, friend-imposed – and sometimes they just need someone to say to them, it's ok. This is just the beginning of a very long life and career. Stop worrying so much about the twenty year plan. Just figure out what you need to do next year. Everything else will work out.
What is your favorite place on campus?
That's a tough one. Probably a tie between ZSR and Scales, still. But I also really love coming over early and going for a run while the campus is just waking up. You see things in a completely different way.
And now…the lightning round, where I fire some quick questions at you!
Book you're reading now: I'm reading a silly mystery novel that's not worth mentioning. BUT, I just finished Fates and Furies by Lauren Groff, and Station Eleven by Emily St. John Mandel. Both are going to live with me for a very long time (as everyone within earshot of me knows, as I won't stop talking about them.)

What music are you listening to these days? Hmm…does NPR count? Everything from the Avett Brothers to Imagine Dragons to Florence Welch. Basically I'm always on the lookout for good music to add to my running playlist. I'm open to suggestions!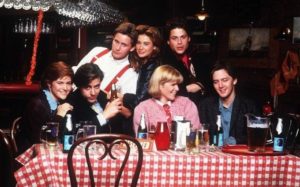 Favorite movie(s): Ever? Another tough question. A River Runs Through It might be my all-time favorite. I have a strange affinity for The Mummy (the one with Brendan Fraser) for its sheer campiness. I also have a deep love for St. Elmo's Fire (YES!), due to the fact that my college roommate and I might have watched it about a thousand times and it will always remind me of her and that time in our lives. (The Mummy I have no excuse for.)
Website(s) you frequent: New York Times, Washington Post, some pop culture websites I will not mention. (We will have to compare notes, because I bet we are looking at some of the same sites).
Guilty pleasure(s): Pop culture. I know way too much about really unimportant things.
Favorite place to eat or drink on campus – and what you order there: Does the Village Tavern count? VT Grilled Chicken Spinach Salad for the win!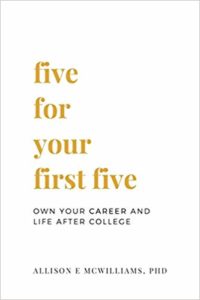 Tell me something most people don't know about you: Some folks know that I wrote a book about a year ago, Five For Your First Five: Own Your Career and Life After College, which was written for our young alumni. But people may not know that I really love to write, and write novels in my free time. My dream is one day to be a successful working novelist.
Last question: what didn't I ask that you wish I had?
When I talk to young alumni (and students) I will always ask them to tell me their story – where are you from, why did you come to Wake, what did you do here, and so on – and then I will ask them: Given all of that, would you say that Wake met your expectations, exceeded them, did not meet your expectations? The answers are always interesting and eye-opening. I was not someone who was desperate to come to Wake Forest (in fact, for a long time I flat-out refused to consider it). I applied to three schools, got into all three, knew I would have been happy at any one of them. And because of that, I think, Wake exceeded my expectations in every way, and continues to do so, to this day.
Many thanks to Allison for being our Meet a Deac!
— by Betsy Chapman