The big national story for the day of course is Hurricane Michael, which is about to make landfall even as I type this (around 1 pm Eastern). We know this one looks to be Big and Bad for the Florida panhandle and the Gulf Coast. Our thoughts and prayers are with all the Wake Foresters in the area – alumni, parents and families, and friends.
To put it in perspective, I plucked this map off of the Weather Channel website. Winston-Salem is located in Forsyth County, which is shown at the white dot on this map. As you can see, we are not in the watch area at this point.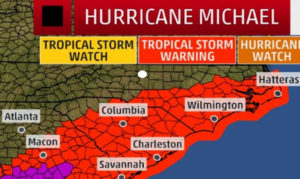 We are concerned about our Wake Foresters in Eastern NC and to the south of us. We know many of y'all are still dealing with the residuals of Florence and are thinking of you. Maybe at least this wind will blow some of those monster mosquitoes out to sea so you get some relief.
It is raining here on campus – less having to do, I suspect, with the hurricane and more to do with a regular storm front. It feels pretty quiet on campus, too. Class is in session (Fall Break doesn't officially start until tomorrow). Maybe students are staying indoors because of the rain, or perhaps some did not have class and got an early start on break, but there is not a ton of foot traffic except for classes changing or students heading to their cars.
One academic note: for first-year students ('22), the Office of Academic Advising (OAA) will be offering optional info sessions next week:
"Students will have the opportunity to gain, as well as reinforce, knowledge related to curriculum requirements, pre-professional tracks, DegreeWorks, and how to prepare for their required advising meeting with [their academic adviser, aka lower-division adviser]. The sessions will be led by OAA staff and student advisers, who will offer a student perspective, insight, and recommendations. These sessions are *not* to take the place of the required one-on-one meetings between students and lower-division advisers.  What these group advising sessions will do is review the "nuts-and-bolts" of WFU's curriculum and how to register for courses. Sessions are
October 15th from 4-5 pm in Pugh Auditorium
October 17th from 5-6 pm in Annenberg in Carswell Hall
October 18th from 5-6 pm in Annenberg in Carswell Hall"
I'm going to take a Fall Break too, so this will be the last Daily Deac this week. If your Deac is traveling for Fall Break, we wish them a safe and fun journey. And for those staying on campus, enjoy the days off, and take advantage of fun stuff in and around Winston-Salem.
— by Betsy Chapman