It is a beautiful day on campus today – maybe a little warmer than I would like, but not superhot either. Low 80s.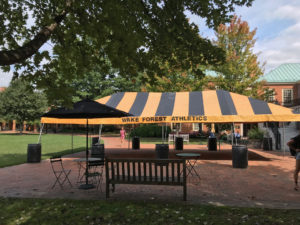 I walked to the Quad for a meeting and saw this tent – which means Hit the Bricks is coming! HTB is one of the very best days of the year. For the P'22s among us – or anyone new to the Daily Deac – here is a little bit about HTB:
Wake Forest University students, faculty and staff participate in an eight-hour relay walk/race around Hearn Plaza (aka the Quad) beginning at 11 am. Teams of 7-15 participants compete to raise both money and awareness for the fight against cancer through the WFU Baptist Medical Center's Comprehensive Cancer Center. Participants will walk a final remembrance lap for cancer victims and survivors, and the daylong event will end with a luminary ceremony at 7 pm in front of Wait Chapel. Hit the Bricks has raised over $400,000 since the first race in 2003. All of the proceeds will be donated to the Brian Piccolo Cancer Research Fund. For more information go to http://wfuhitthebricks.com/ 
To give you a sense of the day, you can check out the 2017 Hit the Bricks video. As you can see in the video, the whole campus appears to turn out on the Quad. There are runners and walkers who pass through this tent and scan an ID card for their team – and I believe it is still true that they get extra points if they are wearing a backpack full of sand. I forget if it is 5 or 10 lbs of sand, but I remember how quickly my back hurt when I tried to wear one!
All around the Quad, students are gathered in lawn chairs and lounge sofas with their team or their student organization to cheer them on. There's music, a leaderboard, some rousing speeches, and fun things like the Wacky Lap (you have to wear something wacky or do something wacky) or the 'no feet' lap. Some of the teams – both student and faculty – are highly competitive, others are strictly in it for the fun and fellowship.
If your Deac is on a HTB team, that is wonderful. If not, please encourage them to head up to the Quad this Thursday 10/4 from 11 am-7 pm. It is a wonderful show of the Pro Humanitate (for humanity) spirit. And a word to the wise: the forecast (as of Tuesday) is saying it will be a high of 89 degrees and will be sunny. Remember to stay hydrated and wear some sunblock.
— by Betsy Chapman