This past weekend we had a full moon, and our intrepid Ken Bennett managed to capture it as it rose in the sky near Wait Chapel. Hope you enjoy it.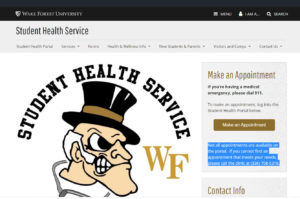 We have had a couple of questions from Deac families about the Student Health Service and availability of appointments. When students go to the Student Health Service page, they can see an option to schedule an appointment via the patient portal (see screenshot). However, not all appointments are available on the portal. Just like at regular doctor's offices that you or I might go to, there are urgent care appointments that are held aside as needed. So if your Deac tries to go online and cannot find an appointment that meets their needs, your Deac should call the clinic at (336) 758-5218 to see what else might be available. One more student health thing: students who need flu shots can go for walk-in appointments between 9 am-4 pm Monday through Friday.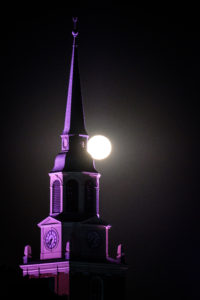 I will be out of the office for a few days to visit my P'92 mom, but will prepost some blogs in my absence. Call your Deacs today and have a great weekend!
— by Betsy Chapman '92, MA '94