Main Content
I have been behind on sharing some of the emails I get from other parts of campus that may be of interest to your Deacs. So here are a few of them at once.
Project Pumpkin: Project Pumpkin is a signature student-led community building event that was started at Wake Forest in 1988 to bring together the campus and Winston-Salem communities. Each year around 500 children from local schools and after school agencies are invited to Hearn Plaza to participate in a fall Halloween themed festival. Each year students, faculty and staff collaborate to develop booths for trick-or-treating, carnival games, clowns, entertainment as well as educational activities. The link for students to select which Project Pumpkin committees they would like to be part of is now LIVE:https://goo.gl/forms/YEhyM96TJJrceyez1.  The descriptions of each committee are at the top of the form. Students can sign up for as many committees as they want, and they will automatically be added to the committees they select. Joining committees is an excellent way to volunteer "behind the scenes" before the day itself.
Hispanic/Latinx Heritage Month: Hispanic/Latinx Heritage Month officially began Friday, September 15th. The Intercultural Center (IC) and the Organization of Latin American students (OLAS) have compiled a dynamic month of events that celebrate diverse cultures and recognize the contributions of Hispanic and Latinx people on campus and around the world. The theme for the month this year is Sin Fronteras/Without Borders. The spirit of Pro Humanitate calls on us to connect with our peers across physical or abstract borders that exist. Our hope is to cultivate a familial environment, transcending the limitations of borders and engaging in enriching dialogue among the WFU community. Programming throughout the month will include educational and social events, such as the grand opening of the OLAS lounge; a dialogue about the realities of the border wall; an opportunity to learn more about Latinx literature; a reception to build community among Hispanic/Latinx students, faculty and staff; as well as a salsa dancing workshop.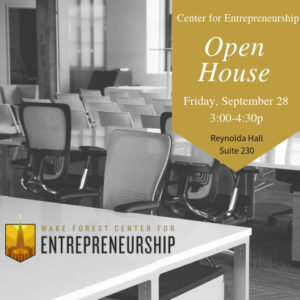 An addition to Family Weekend programming: Center for Entrepreneurship Open House: Friday, September 28, 3:00-4:30 p.m., Reynolda Hall. Come see what makes Entrepreneurship one of the largest minors at Wake Forest University! Meet the faculty and staff who educate and inspire entrepreneurial leaders through: engaged teaching, coaching and mentoring within a robust and vibrant entrepreneurial culture. Hear from students about their experience at the Center.  What does it mean to "Do the Work that Feeds Your Soul?"  #WakeEntrepreneur, Taylor Clark shares her perspective: http://entrepreneurship.wfu.edu/blog/
Tomorrow is Black and Gold Friday, Deac families. Plan your wardrobe to show your WFU spirit!
— by Betsy Chapman
Recent Posts
August 5, 2020

August 4, 2020

August 3, 2020