Tomorrow is the 4th of July, and we'll be off for the holiday. So for today's Daily Deac, I'm bringing you a little bit of red, white, and blue from WFU, and some fireworks.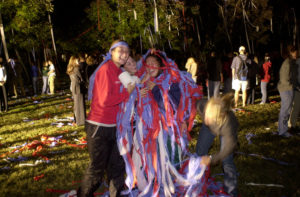 A little explanation needed on this first picture. This is from the Presidential Debate in 2000, which was held in Wait Chapel. One of the ways the students celebrated after the event was they rolled the Quad with red and blue streamers, in addition to the normal white toilet paper. It made for a very festive Quad.
Have a safe and happy 4th, Daily Deacdom!