Main Content
I hope by now that many of our P'22s have discovered the New Students website – this is the place where all the critical information for incoming students is stored. Yesterday, your students received an email (read full version here). Part of it is about the process of them registering for classes, and the info is so good it bears repeating here:
THE FIRST STEPS TO PREPARE FOR FALL REGISTRATION
1) The Directed Self-Placement (DSP): The prompt and readings for theDirected Self-Placement for Writing became available on Thursday, May 24th. Instructions were sent to your WFU email address on Thursday, May 24th. You can learn more about the purpose and process behind the DSP via the following link and you should direct questions about the DSP to dsp@nullwfu.edu.
2) Check your registration time in your WIN account.  The Office of the University Registrar sent an email today (Tuesday, June 5th) to your WFU email address with specific information and instructions regarding the registration process.
3) Internet Access During the Week of July 16-20.  If you will not have internet access during the entire week of July 16-20, please contact the Office of Academic Advising immediately so we can assist you in registering at your assigned time.
4) AP and IB scores: Request that your AP and IB scores be submitted to Wake Forest by Friday, June 15th. (The scores do not have to arrive at Wake Forest by this date, but you need to make the request of College Board/IB Program Coordinator that they be sent.) See registrar.wfu.edu/academic/ap for more information.
5) The Foreign Language Placement (FLP) Test: Complete this test as soon as you can, and no later than Friday, July 13th, for any foreign language you studied in high school, unless you will receive qualifying AP/IB credit.  If your native language is not English, you might be exempt. Additional information about the FLP test, including exemption, may be found HERE.
6) Consider Living Learning Communities (LLCs): In preparation for the Writing Course Survey (instructions will be sent to your WFU email address on Friday, June 22nd, due Friday, July 6th), read about WFU's exciting Living Learning Communities (LLCs).  In the Writing Course Survey, students who would like to make strong community connections in an academic setting during their first semester can request to be part of an LLC. If you are in an LLC, you would live in residence halls with other first-year students, but classmates are assigned to the same residence hall and engage in class and residential events designed to deepen your learning and foster a sense of community. Although the LLC course instructor does not live in the residence hall with students, they will serve as a teacher, mentor, and event facilitator for the class. Often, but not always, the LLC course instructor serves as the adviser. Contact the Office of Academic Advising if you have any questions about LLCs.
These and other steps to prepare for registration (which will come later this summer) are summarized on New Student Website's Planning for Registration Page. If you have any questions as you think about course choices for the fall, be sure to review Foresty 101, p. 111- 114, schedule a June phone advising session, or contact the Office of Academic Advising via email or phone at 336.758.3320.
Registration is one of these processes where you don't want to wait until the day before to try and figure it out, so it would behoove your students to go through all this material now. The Office of Academic Advising is the experts on this process, and they are able to advise in June via phone or by email. Take advantage of those resources!
And if you have not discovered the parents and families section of the New Students website, please do take a look. There is a lot of info out there that is tailored to you! If you click the grey menu dropdown for Parents and Families you will see the various sub-pages out there – start with the Overview page (it is our main page).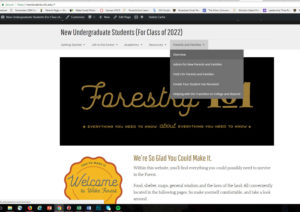 Recent Posts
August 12, 2020

August 11, 2020

August 10, 2020