Main Content
Today memorial services were announced for Maggie O'Sullivan:
A memorial service for Margaret Ann (Maggie) O'Sullivan, who died last Friday night, will take place Wednesday, April 25, at 5 p.m. in Wait Chapel.
She was a freshman from Kennett Square, Pennsylvania.  At Wake Forest, she was a member of Alpha Delta Pi Sorority.
President Hatch announced her death in 
a message emailed 
to students, faculty and staff last weekend.
It's our second straight day of rain and gloom. The rain is good because it is washing some of the pollen away, but the fact that so much is in bloom is still doing a number on people with allergies. Soggy Quad Cam pic to attest to the bad weather.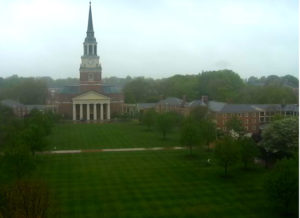 Recent Posts
August 7, 2020

August 6, 2020

August 5, 2020