Main Content
I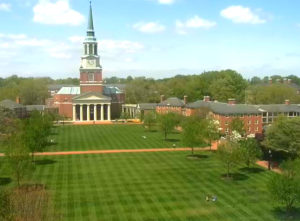 t's in the mid-60s today, sunny, and gorgeous. And you know what that means: we've all got a serious case of Spring Fever! It is sooooo hard to focus when the weather is this nice (not too hot, not too cold) and we are still far enough from the end of classes that I suspect our students are doing a little procrastinating and enjoying this lovely weather. You can see what I mean by the screen grab from the Quad Cam.
Tomorrow is the second of our Campus Days for Accepted Students. If you want to see the Quad full of fun, I would recommend tuning in to the Quad Cam around 9:45 when our prospective students and families leave the large plenary session in Wait Chapel and head to other sessions. It will be busy again around 3 pm when there is a Student Activities Fair to close out Campus Day. And just as we offered last week, if we have incoming families already looped into the Daily Deacdom, please stop by our Office of Family Engagement table to say hello when you arrive tomorrow morning for registration. We'll be there until around 9 am.
I heard from one of our groups on campus that they have an event coming up in May that is part of our efforts to honor the legacy of our own Brian Piccolo in helping with cancer research. Details are below. This might be a really fun thing for your students to attend.
————————–
What:  Pump Up For Piccolo
When: Wednesday May 2nd from 4-6 p.m.
Where: McCreary Field House
Why: Building community while raising money for the Brian Piccolo Cancer Research Fund
On Wednesday May 2nd,  members of the Wake Forest Football Team will join with the men of Pi Kappa Alpha fraternity and other WFU fraternities, sororities, and student organizations to compete in a weight lifting and strength event to raise money for the Brian Piccolo Cancer Fund Drive. The Brian Piccolo Cancer Fund Drive was established by students in 1980 in memory of a great Wake Forest athlete/alum and Chicago Bear football star who died of cancer at the age of 26. The inaugural year of the drive brought $3,500 and each successive year has seen increases in both community involvement and monies raised (over $3.5 million for 38 years). The money raised is donated to the Comprehensive Cancer Center of Wake Forest University.
In this its twentieth year, the Pump Up for Piccolo event has set a goal of $10,000 in the fight against cancer. Teams comprised of two football players and two organization members will compete against each other in a series of strength and agility events. There will be separate divisions for men and women. Prizes will be awarded to the "strongest" teams. Student athletes and Pi Kappa Alpha brothers will raise money for the Piccolo Cancer Drive through individual and business sponsorships of the competition. The Wake Forest Athletic Department is a proud sponsor of Pump Up For Piccolo to help find a cure for cancer.
Recent Posts
August 7, 2020

August 6, 2020

August 5, 2020