Main Content
Today was Campus Day for Accepted Students – about 600 people here to tour Wake one last time, either to confirm their decision to enroll, or because they are still trying to decide between Wake and [other school].
For it being Friday the 13th (and possibly unlucky), the weather could not be more perfect. It's in the low 70s, sunny with a gentle breeze. The flowers are popping everywhere. You can overhear snippets of conversations from families in the north (where it's still cold and the trees are barren) about how pretty it is here.
Other things you overhear right now is sneezing. With all these beautiful flowers comes pollen, so for those with allergies it is an itchy, sniffy, sneezy time. A good rain would wash a lot of that away.
It's always fun to watch the faces of the prospective students and families to see the range of emotions: eagerness, anxiety, joy, delight. Campus Day is a happy day all around. Here's a look at some of the new ones coming out of the morning session in Wait Chapel (see pic below) as well as a video of the Quad around 2 pm and this one. You may still be able to catch some action on the Quad Cam later this afternoon for families who linger.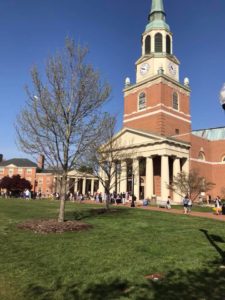 Recent Posts
August 5, 2020

August 4, 2020

August 3, 2020