Main Content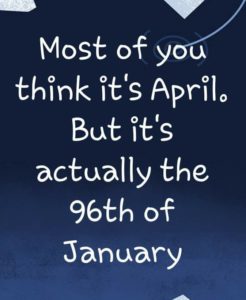 We have Deac families all over the country (and the world). I saw this picture on Facebook from someone out in the frozen tundra that is the midwest and thought you might appreciate. Hopefully spring will decide to come to your hometown very soon if it has not already. Our weather on campus has been chillier than usual the last couple of days, but at least it is sunny.
Just a few quick hits today:
Residence Life and Housing shared information about spring residence hall closing (in other words, when do your students have to move out), as well as some other information about summer school and next year's calendar. Read it here.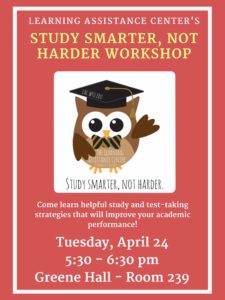 Our wonderful Learning Assistance Center is offering another one of its Study Smarter, Not Harder workshops. The next one is coming up on April 24. You can click on the image of the flyer for more details.
Finally, you may have received an email about the "Feet of the Finest" – which is part of our April drive for the Parents' Campaign of the Wake Forest Fund. This went out to parents and families who had not yet made a gift to the Parents' Campaign. It occurs to me that there might be folks out there who had made a gift earlier in the year, but would still want a snazzy pair of these custom WF socks – so details are below on how to get them. Would be a great thing to have for Family Weekend, or next year's Commencement, etc.
| | |
| --- | --- |
| | THE WAKE FOREST FUND |
Family Weekend will be held September 28-30, 2018, and we know you want to be the best dressed parents and families there. How can I be a Chic Deac, you ask? By getting a snazzy pair of these custom-made, super comfy Wake Forest socks!To get your WFU socks, make a gift of $25 or more to the Parents' Campaign of the Wake Forest Fund today at go.wfu.edu/wffsocks.If you need two pairs for your family, have both family members submit separate orders (it's an IRS requirement, sorry!)
You can't get these socks at the Deacon Shop or anywhere else – they are on a limited run and they are calling your name.
Proceeds of the sock sale benefits the Parents' Campaign of the Wake Forest Fund, which supports students, faculty and program initiatives.
*Limit 2 qualifying gifts per household, allow 6-8 weeks for shipping.
For contributions of $55 or more, the donor will receive a pair of custom designed, Wake Forest socks. According to the available tax guidance, the socks received in exchange for your contribution are considered to be "low-cost articles" and therefore your entire contribution may be considered deductible. For contributions of $25, but less than $55, the donor will receive a pair of custom designed, Wake Forest socks. Per IRS guidelines the charitable portion of your contribution must be reduced by the fair market value of the socks which is $5.21.
Recent Posts
August 7, 2020

August 6, 2020

August 5, 2020