We are getting closer and closer to Commencement, which means our P'18 families – and their Deacs – might be starting to get excited/wistful/nervous/you name it. For those senior parents and families in the Daily Deacdom, if you have not already discovered the Commencement website, please do visit it and look through all the sections. There are a lots of goodies out there, including information and checklists, FAQs and more (see the grey dropdown menu at the top of the site).
Your seniors also need to be sure to read through this site so they are aware of information and instructions pertinent to them.  (And before you ask, I do not know the names of the Commencement and Baccalaureate speakers yet – those will be out on the Commencement web site in due time). And in a future Daily Deac closer to Commencement, I'll provide my annual list of observations/recommendations/best practices about the weekend. Stay tuned.
Between now and Commencement, we'll have an opportunity for P'18s (and any other families who are interested) to attend a free webinar. It's called "Support Their Five: Setting Up Young Adults for Success After College" and it will feature the great work of my friend and colleague Allison McWilliams ('95), Assistant Vice President, Mentoring and Alumni Personal and Professional Development, and author of Five for Your First Five: Own Your Career and Life After College.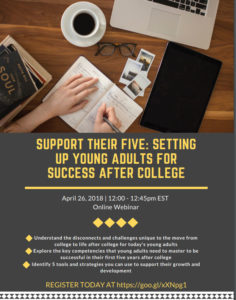 The webinar will be held on Thursday, April 26th from 12:00-12:45 pm. Register for it online. Here's a description of it:
In this 45 minute webinar we will explore some of the key challenges and growth opportunities facing young professionals as they move from college to life after college, and how you can support them, including:
– Understanding the disconnects and challenges unique to the move from college to life after college for today's young adults
– Exploring the key competencies that young adults need to master to be successful in their first five years after college
– Identifying 5 tools and strategies you can use to support their growth and development
In addition to your students getting to sample from the WFU buffet – this time YOU can take a bite yourselves! Hope this might be of interest to you.
Finally, some of our seniors might still be looking for their next move after graduation, and I hope they are aware of our Master of Arts in Management. I can't say enough good things about this program.  Many moons ago, I knew a wonderful senior ('06) who was very talented and had a really strong GPA but did not have a lot of business experience. He got a lot of interviews from the kinds of financial services companies he wanted to work for, but did not get any offers. He went through the MA in Management program and interviewed with those same companies – and had multiple offers. This program really prepares students to launch into business careers.
This knowledge is not just for current seniors though. I daresay we have a fair number of freshmen and sophomores who might have originally planned on a business major but found that was not the right path at that time. If accounting or calc or econ was a speed bump, keep in mind that sometimes it can be hard to master difficult subjects when students are are 18 or 19 and their brains and logic and reasoning are still developing. It can be much easier to comprehend that material when they are 22 or 23. The MA in Management can be an alternate path to the same end destination: a great business career. Worth thinking about.  Details below.
Help your child land the job they love with a Masters in Management  
Wake Forest School of Business offers an accelerated, 10-month Masters experience designed for non-business, liberal arts majors. Ranked #4 in the USA by The Economist,  curriculum includes courses in Business Analytics, Marketing, Accounting, Finance, and experiential Action Learning Projects. We prepare graduates to lead and manage people and organizations.
MA students come from over 69 colleges and universities with 48 different majors,  many from Wake Forest. Over 65 unique employers hire MA graduates each year, including Deloitte, EY, Disney, Workday, and BofA.
If your child is unsure of their post-May future, you should consider the MA.  Accelerated admission and merit/need scholarship is available to all qualified Wake students. 
Hear below from MA Dad Larry Merlo and his daughter, Kristen, on why this program was ideal for their family.
To learn more, please contact John White at whitejg@wfu.edu or Briana Brewer at brewerbr@wfu.edu