First today, a bit of business. Yesterday in our Wake Parents and Families e-newsletter, I made a mistake in our Upcoming Dates and Deadlines section.  It is only the fall tuition deposit that is due by March 31 for currently enrolled students, not the full fall semester tuition. My bad.
Just as we had Emily Beeson ('19) as a guest blogger from Wake Washington in the fall, I am pleased to announce that Brittany Wallace ('21) is willing to share with us her experiences as one of the first-year students in the year-long Global AWAKEnings program in Copenhagen. Brittany and I did a long distance interview. Enjoy!
Tell me your name and hometown.
Brittany Wallace from Woodstock, GA.
Why did you choose Wake Forest for college?
I picked Wake because it offered me everything I could've asked for from a college. I was looking for a small campus outside of the city with strong academic standing, study abroad opportunities, and a variety of extracurricular activities. Wake Forest checked all of those boxes. Even better, each time I stepped on campus, I could imagine myself going to class and chatting with friends. I could see myself building relationships with professors and becoming involved in all sorts of exciting activities. It felt like a place I could call my home.
It is not the typical freshman experience to spend your first whole year of college abroad. What made you select the Global AWAKEnings program? 
I'll admit I was initially quite hesitant to accept the program. I love to travel, and I was certain I wanted to study abroad, but it seemed so sudden and immense to go off for my first year. There were plenty of plus-sides to the program, especially Denmark's proximity to Sweden, where I have family. However, it was a long way to the States from Copenhagen, and I had never lived anywhere other than my hometown. What I finally realized is that Global AWAKEnings is a once-in-a-lifetime opportunity. I would never have a chance like this again. It was so inexplicably perfect that refusing was simply not an option. It was time to face my fears and seize what life had graciously granted me.
Tell me a little bit about where you are living (are you in a residence hall, apartment, etc.? Do you have a Wake roommate?)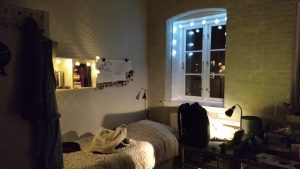 We are living in a DIS (Danish Institute for Study Abroad) building on the island of Amager, south of Copenhagen. Our group occupies one whole floor of the building, which is split into two apartments. Each apartment has a common space with a living room and a kitchen, two bathrooms, and 5 rooms. Each person has a roommate, or in some cases, two, who is also part of the Global Awakenings program.
How many Wake students are in your program? Do you all take classes together as a cohort, or do you all take different subjects?
There are 16 students in the program. We all live together. There are eight people in my apartment, all sharing double rooms. The last room is for our SRA, Malte. He is from Denmark and is currently studying to become a marine biologist. We take all our classes together, just the 16 of us, although this semester some students are taking extra courses through DIS. Two of our classes each semester are taught by a Wake professor, and the other three are DIS courses.
What have been your favorite classes so far?
I particularly enjoyed the Danish Language and Culture course last semester. It's a required course that gives students an overview of basic Danish and the history and culture of the Danish people. I also had a FYS, sociology, art history, and literature. This semester, my current favorite is European Politics. We also have Islam in the West, an introductory film class, Masterworks of Nordic Cinema, and sustainable development. All of the classes have been great, and both the Wake and DIS faculty are fantastic.
Tell me about Copenhagen – what is it like to live there? What are your favorite things (places to go, foods to eat, etc.)
Copenhagen is better than you could imagine. It's just the right mix of historic and modern. The city is very easy to navigate and full of interesting restaurants and sites. Copenhagen is special because it has all the great attractions of a big city without the big city feel. DIS is located in the historic heart of the city, so the bike ride to school is quite pretty with the mix of modern shops and castles, all surrounded by canals. An interesting note is that Copenhagen is surprisingly quiet for a city of its size, and it is extremely safe. I have never had any trouble travelling around the city by myself.
We all enjoyed Paper Island, which unfortunately closed in December. It was a huge warehouse filled with food trucks of all varieties that served great food. Supposedly, a new location will be opening in May. The Glass Market is cool, a large indoor market with all types of fresh foods and fun eateries. It has great smørrebrød (Danish open-faced sandwich). For things to do, I particularly love The Cisterns, an underground water reservoir that was repurposed as an art exhibit. The Louisiana Museum outside the main city area is also fantastic. It features Gleaming Lights of the Souls by Yayoi Kusama, as well as a wonderful outdoor sculpture garden.
What has surprised you most about your experience abroad?
I have been most surprised by how easy it was to adjust. I expected the transition to be a rollercoaster of homesickness and fear, but it felt natural. Everyone I live with was a virtual stranger when we arrived, but I think we clicked fairly quickly. It was disorienting to be suddenly dropped in another country, but within the month, we were pros. Obviously, there are issues with any change. Life can't just be smooth sailing, but I was shocked by the relative lack of major problems.
Are there particular things you have missed from home (other than loved ones)?
Besides the obvious candidates: my bed, a grocery store with labels in English, a sunset that isn't at 4 o'clock in the afternoon, JIF peanut butter, showers that don't shut off after 7 minutes…
On a more serious note, I really miss my pets, no matter how obnoxious they might be. I miss the view from my dad's office window. I made it the background screen on my phone. I miss my friends, although the ones I have made here are fantastic as well. Also, I miss a lot of small things that I never realized were important to me until I left them.
How have you changed through this experience?
This experience has helped me realize that being afraid shouldn't stop me from pursuing the life I wish to live. If you aren't doing something slightly scary with your life, what's the point of living? I have realized not everything is going to work out exactly as I expect it to, and that's okay. I may want my life to proceed smoothly, but bumps in the road are part of the fun. I have become better equipped to handle challenges. I am learning the importance of compromise when living with others, as well as the importance of having an open mind. Being here in Denmark has allowed me to prove to myself that I can do anything, as cheesy as that may sound, as long as I am willing to put my fears aside and take life as it comes, overcoming instead of giving up.
What are you looking forward to about being on campus next year?
I am super excited for all the extracurriculars and cool on-campus events. I hope to participate in a couple clubs and sports. I am looking forward to picking my own classes and meeting other Wake students. I want to participate in Hit the Bricks and all the other activities I've missed out on this year. There is just so much I hope to do.
Feel free to answer any other questions I have not asked (but you wish I had).
Global AWAKEnings, in partnership with DIS, is a bit unique in that it includes travel in Europe as part of the curriculum. That travel is generally in three parts: field studies, Core Course Week, and the long study tour.
Field studies are on Wednesdays. They are class specific and generally consist of a visit to a location in or around Copenhagen with a teacher to further learn about a topic from class. For example, we have visited the first women's mosque in Copenhagen for Islam, spent part of the day in Dragør learning about the escape of the Danish Jews for Danish Lang and Culture, and visited the island of Møn to see a church and the chalk cliffs with our art history professor.
Core Course Week is a week of out-of-class activities including a three-day tour through Denmark. The first two days are in Copenhagen and usually include group activities. The CCW itinerary last semester included a visit to the Wadden Sea Center, Egeskov Castle, and a few museums and other things. Last week in the city, we biked to Nordhavn to look at Denmark's newest sustainable city project. For the three days of travel, we went to Skagen to see a moving sand dune and where the Baltic and North Seas meet, as well as Aarhus, some museums, and an open prison.
The long study tour is a week long trip to another European country. Last semester, we spent a week in Venice and Padua studying art. This semester, we will go to Vienna to study politics.
Travel is actually a large part of our time here. We take long and weekend trips on our own. I have now been to Sweden, France, Finland, Belgium, Germany, and Spain.
Another cool thing about our time here is the chance to have a visiting host family, a Danish family to do activities with. My visiting host family and I celebrated Fastelavn at the beginning of February with a community event and a traditional game of Beat the Cat Out of the Barrel. We do all sorts of activities with our visiting host families, including meals and sightseeing or events. I have also been to the ballet and a museum with my family from last semester.