Happy Black and Gold Friday, Deac families! Are you sporting black and gold (or WFU apparel) today? Thanks to all of you who show your WF spirit every Friday by donning our colors.
It is cold and windy today, so rather than venture out of Alumni Hall to see what's happening in the center of campus, decided to offer you a little 'food for thought' for this Friday.
There are things to celebrate: so let's talk athletics.
On Saturday at 2 pm, our men's basketball team takes on Clemson here at the Joel. At the game, our Belk Bowl winning football team will be honored, so your Deacs have even more reason to go. Let's pack the stands – for both our basketball team and our football team.  It's important that students support their classmates who are student-athletes. In addition, five members of the Wake Forest football team have been named to the All-ACC Academic Team: Wendell Dunn, Justin Herron, Luke Masterson, Cam Serigne, and John Wolford.
And speaking of academic honors – there's more!
Men's soccer player Kevin Politz was named the ACC Scholar-Athlete of the Year.  Also on the All-ACC Academic Team are his teammates Brad Dunwell, Andreu Cases Mundet, Omir Fernandez and Brandon Servania.
Wake Forest field hockey's Megan Anderson, Jule Grashoff and Rachel Hirsch were named to the All-ACC Academic Team.
Six members of the Wake Forest women's soccer team were named to the 2017 All-ACC Academic Team: Hannah Betfort, Vicky Krug, Bayley Feist, Ally Haran, Maddie Huster, and Lindsay Preston.
Men's and women's cross country student-athletes were named to the 2017 All-ACC Academic Cross Country team: Mitchell Day, Hannah Brookover, Mimi Smith, and Eliza Lukens-Day.
Women's volleyball players Kylie Long and Caroline Wolf were selected to the All-ACC Academic Team.
Are you seeing the pattern here?  Our student-athletes win games and they do great work off the field of play as well. That is a joy to me and a point of pride as an alumna. GO DEACS!
So those are some things to celebrate. There are also subjects to elevate: and today that is mental health. I received the email below from the University Counseling Center, and the content is so good it is worth sharing.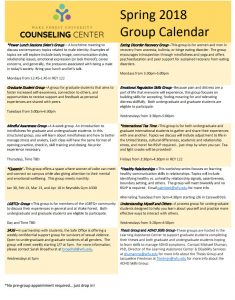 "The Counseling Center has worked very hard to increase its visibility on campus and reduce the stigma sometimes associated with seeing a mental health provider. We have been thrilled to witness the success of these efforts over the past few years! As more students are utilizing the center, we have been able to expand the services we can provide, and one of the biggest services we have been working on developing and expanding is our group therapy program!
When people think of counseling, they often think of meeting one-on-one with a mental health service provider. We are happy to provide confidential, one-on-one counseling free of charge to all Wake Forest students as needed, and at the same time we are aware of a growing body of research that points to the power of group-based therapy.  Group therapy is a highly-effective option for people with concerns including anxiety, stress, lower levels of depression, relationship issues, identity development, disordered eating, and adjustment issues like homesickness or upcoming graduation.  And in many cases, group therapy is the preferred treatment modality because it offers students a chance to immediately practice the skills they will be learning to cope with and reduce their negative symptoms.
Because students tend to be more unfamiliar with group therapy, they often express some common concerns about participating in a group. One of the most frequently expressed concerns is the discomfort of talking about problems in front of other students.  When I hear this, I like to tell students that just about everyone initially expresses this concern, so they will be in good company if they join the group!  Also, students do not have to share anything in group that they feel uncomfortable disclosing, and students can actually benefit from simply being present and hearing others talk about their difficulties because chances are they will be able to relate to what others share in the group.  We at the Counseling Center recognize that students can be reticent about joining a group, and we are happy to take as much time as needed to talk through a student's concerns when we make the recommendation for group treatment.
We are excited to announce that we are further increasing our offerings for Spring 2018 from 8 to 11 different groups!  These additional groups will ensure that students have increased access to groups that will align with their already-busy schedules and that are tailored to specific issues that they are struggling with.  Whether it be relationship issues, disordered eating, LGBTQ+ identity, or a host of other issues, we certainly have a group for everyone!  You can learn more about our groups by visiting our website."
Remind your Deacs that self-care is smart and to take advantage of these sources of support if ever they need them.
Wishing you all a wonderful Superbowl weekend. Know we have a lot of families from the Philadelphia area, as well as many dedicated New England Deac families too. I would not be doing my suburban Phili upbringing right (and my P'92 would surely scold me) if I didn't offer a rousing Fly, Eagles, Fly! to my PA Daily Deacdom.  In all seriousness, may it be a great game and may the best team win.
PS – call your Deacs today, too 🙂