Today's Daily Deac is a guest blog from Rebecca Alexander, Professor of Chemistry and Director of Academic Programming for Wake Downtown.
———-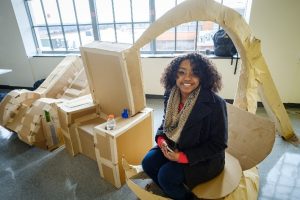 Just a year ago we were still unpacking boxes and eager to welcome the first students to this great new space. We had an exciting 2017 and we're now ready to welcome another semester.
The first cohort of engineering students completed EGR111, Introduction to Engineering. This course had three major units: What is engineering? (from history to culture to engineering knowledge); a chair design project to teach the basics of design as a problem-solving process; and a research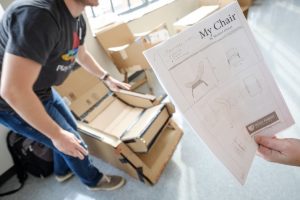 project on "sensing the city" (with temperature, light, CO2 etc probes) to introduce analytical thinking.
We welcomed campus and community groups to Wake Downtown, and continue to investigate how this new location is both an extension of the Wake Forest we all know and love and also an expanded footprint in Winston-Salem.
In the spring 2018 semester, we will continue to be "home away from home" for most chemistry classes and laboratories while Salem Hall is dramatically renovated. In addition to Biology, Chemistry, and Engineering courses, we will host Anthropology, Communication, Computer Science, English, Entrepreneurship, and History classes. We anticipate over 500 students will take classes at Wake Downtown through the week, in addition to those participating in research projects with the 16 faculty mentors whose labs are here.
Students are reminded to download the TransLoc Rider app to monitor shuttle times (it's in the App Store or get the link on http://parking.wfu.edu/ride-the-wake/). They can also use their food dollars at Medical Grounds (in our building) and Chef's Palate (in Wake Forest Biotech Place). In late January, the Bailey Power Plant project will be complete. We look forward to the opening of Alma Mexicana, a spin-off of The Porch, a popular dining destination for students.