Happy Monday, Deac families! Hope that you make it a great week!
There is a special event tomorrow afternoon that I think could be of great interest to our students – as well as any others in the Daily Deacdom who are within driving distance.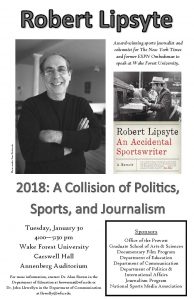 Robert Lipsyte, award-winning sports journalist and columnist for The New York Times and former ESPN Ombudsman will be on campus and will speak on "2018: A Collision of Politics, Sports, and Journalism" Tuesday, January 30th from 4:00-5:30 pm in Carswell Hall, Annenberg Auditorium.
Another delicious dish on the great Wake buffet – and the more offerings your students sample, the richer their college experience will be. Encourage them to sample broadly – and to venture out of their comfort zones.  You never know what you might learn, or the connections you might make, or the inspiration you might feel – until you go 🙂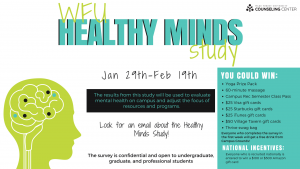 Also, an important note. From January 29-February 19, Wake Forest will administer the Healthy Minds Survey – our most comprehensive effort to date gathering information specifically on mental health and emotional wellbeing. Each student will receive an email inviting them to participate in the survey. Participation is voluntary and will have no impact on coursework. Please encourage your students to complete this as soon as possible, as the survey will give us necessary information about mental health and emotional wellbeing on campus to direct prevention programs and clinical services.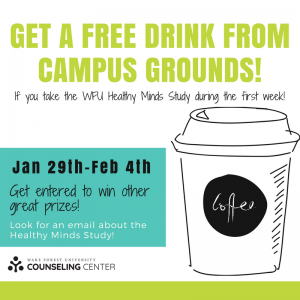 All students who complete the survey are entered in a weekly raffle to win prizes as an incentive. Each student who completes the survey the first week (Jan. 29-Feb. 4) will automatically win a free drink from Campus Grounds. Students will be entered into each subsequent week's raffle for opportunities to win.