Main Content
LDOC today, my Deac families! That means Last Day of Classes – and having just had my LDOC for grad school, I can attest to the fact that it feels like a joyous day indeed. Your students will power through today, and then they will be heading straight into finals mania.  For many students, their classes will require a final exam. For others, there may be papers or projects due instead. Either way, they are going to be busy.
And the big excitement last night and this morning was whether it will snow. If you are one who watches the Weather Channel (or your weather purveyor of choice), you will see that there is a winter storm that is creeping across the East coast. I have friends in Texas who were posting pictures of snow they got lastnight. It's crazy.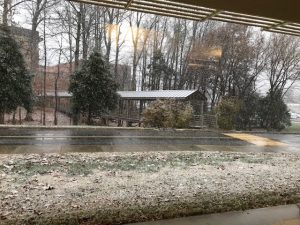 And YES, we did get snow today. It came down in various forms throughout the morning. Early in the day, we had decent sized wet snowflakes coming down, but as soon as it hit the ground it would melt. As I write this now, the temperature is dropping and it is starting to stick to the grass a little.  I took a few videos around 11 am this morning so you could see the snow.  I did a shot close to Farrell Hall, one from the side of Farrell towards the Quad, and one at Alumni Hall. The picture here was from 2 pm from near my office. I highly recommend the Quad Cam if you want to take a peek.
People who aren't from this area often ask do we get proper snowfalls here in W-S. The answer is yes we do, but it varies from year to year. Winston-Salem is east of the Appalachian mountains, and sometimes storms coming from the west get broken up by the mountains before they reach us.  I think last year we got two or three decent sized snowstorms (for us) – something in the nature of 4-6″ of snow. In other years, we get a dusting or two but not much accumulation; still yet in other years, we get sleet and freezing rain. I can tell you though, the "go to the grocery store and buy milk and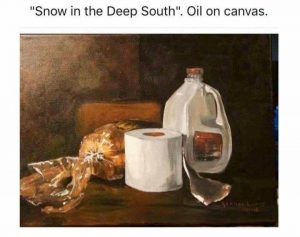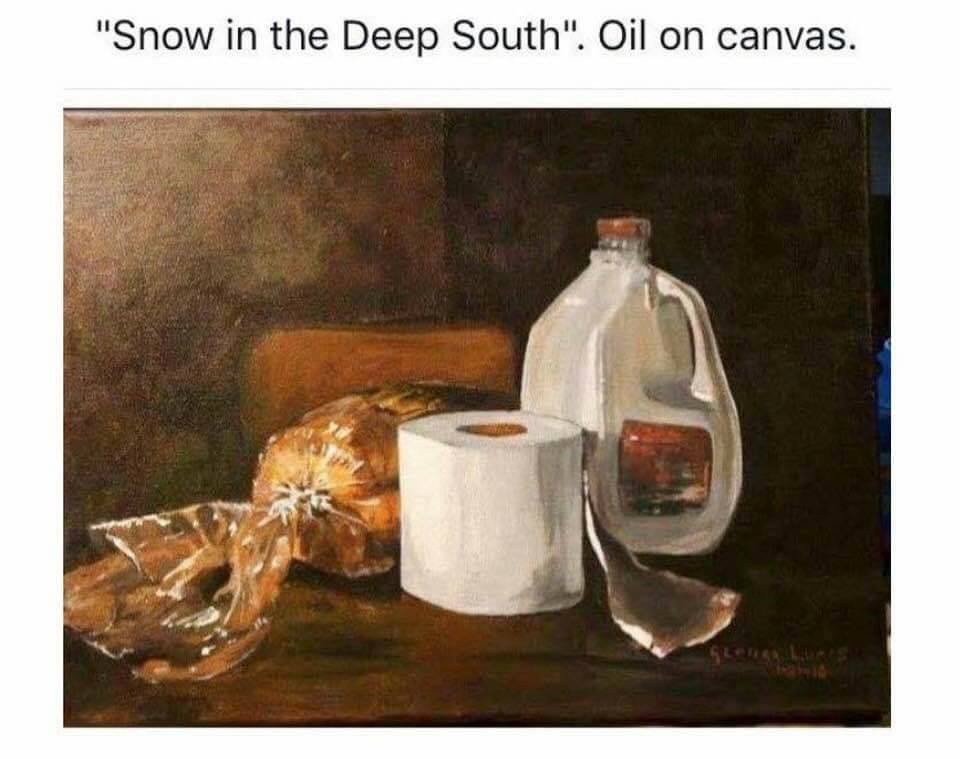 bread like the apocalypse is coming" does apply here 🙂
You can check out our forecast on Weather.com or the WeatherSTEM stations on campus. I joked on our Wake Forest Parents and Families Facebook page this morning that my Pennsylvania-raised nose did not smell snow this morning. To me, there has always been a tell-tale smell when snow is coming, and I did not smell it at 6 am or 7:30 when I was outside. It still did not smell like snow to me, and yet it snowed.
And speaking of weather, my heart is breaking for our Deac families in Southern California with these horrific wildfires. The Golden State has had a devil of a time this fall with so many fires north and south.  Please join me in sending prayers, positive wishes, good vibes, [or whatever is your preference] to our CA Deacs. Be safe y'all.
Final note: we have had several inquiries about the fraternity and sorority recruitment webinars. Updated information is on this web page. They will record the webinars and post them on that same site so that if you could not attend one as it happened live, you can see an archive.
Recent Posts
July 10, 2020

July 9, 2020

July 8, 2020