Main Content
I'm back from my unexpected break to tend to P'92 following a fall she took on Thanksgiving; many thanks for your well wishes and prayers (wish I could have responded to everyone personally but I couldn't).
Lots of things happened in my absence, so this will be a lot of stuff at once.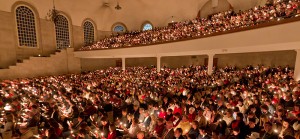 Lovefeast – one of the best events all year took place last night. The Lovefeast is a Christmas service that consists of a readings and a holiday message, singing of carols, sharing of a communal meal, and then it becomes a candlelight service. Hard to describe in words, but you can tune in to watch a recording of the event, or check out Ken Bennett's amazing photos here.
Luminaries – as part of the Lovefeast, luminaries were placed all over the Quad. Each luminary had the name of the alumni/parents & families/friends/corportations who had made a gift to the Wake Forest Fund since July 1. You can see the pictures of the beautiful luminaries below.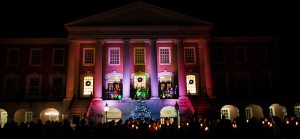 Lighting of the Quad – in other holiday celebrations, the Lighting of the Quad will take place tomorrow night. This is also a fun and festive way to bring in the holiday spirit with music, beautiful lights on our trees, and more. The Quad has a Christmas tree and a menorah – both really lovely.
We're Goin' Bowling! – our football team is going to play Texas A&M in the Belk Bowl in Charlotte on December 29th at 1 pm. Congratulations to our Deacs on their fine season!
All good things come to an end – our men's soccer team had a tremendous season, but fell on Saturday night to the Stanford Cardinal. No matter – we love our Deacs unconditionally! And our Jon Bakero is a semifinalist for the Mac Hermann Trophy, so we'll turn our attention to hoping for that.
Speaking of all good things come to an end – it's the last full week of classes! Now is serious crunch time for your Deacs. Don't be surprised if your students seem a bit stressed or snippy or whatever they do when the pressure is on; that tends to be a pretty normal part of the last week of class. There will be a lot of sweatpants, no makeup, ponytails (or in the case of guys, not shaving) in the next week. Also, the ZSR Library gets progressively busier from now until finals.
It's always a good thing to give your Deacs a boost at the end of the semester – whether that is care package, a nice card/text/email telling them you believe in them and love them, a Deacon Greeting e-card, do what you can to help keep their eyes on the prize of finishing the semester strong!
Recent Posts
August 7, 2020

August 6, 2020

August 5, 2020